Can Arsenal answer Liverpool questions in FA Cup reunion?

By Phil McNulty
Chief football writer
Last updated on .From the section Football756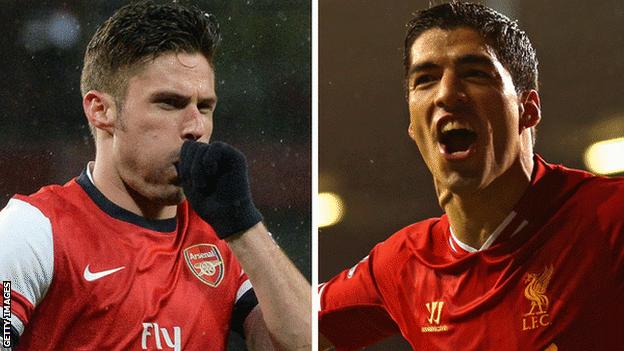 Arsene Wenger admitted the scale of Arsenal's Premier League defeat at Liverpool raised questions about his team - questions he must answer when they meet again in the FA Cup fifth round at The Emirates on Sunday.
Liverpool will enter the latest meeting high on confidence after a victory of such significance, but how will Gunners' manager Wenger go about turning the tide and how will Brendan Rodgers attempt to shape a similar outcome?
Rodgers described Liverpool's display in the 5-1 at Anfield as "breathtaking" and BBC Sport pundit Pat Nevin believes Wenger will demand crucial alterations from his side on Sunday.
He said: "Wenger will undoubtedly have had a real good look at where they went wrong - and they went wrong in a lot of places. He will know already that Luis Suarez and Daniel Sturridge are rather good and Raheem Sterling is ridiculously quick.
"And the weakness was that they all pushed up, didn't close down in the midfield and played slightly too high. You can't do that against Liverpool because they will destroy you. Arsenal will know that now.
"Arsenal must make sure the central midfield area is really, really tight. It is the most dangerous area in football and Wenger will know he needs to kill that space.
"Mathieu Flamini is available after suspension and he will be completely and utterly vital. They have to be totally concentrated. At the moment against Liverpool you would have a number of fears, like the pace of Sterling and the quality of other players. You cannot give them space in the little areas between the lines.
"Wenger will play Flamini and he will presumably make sure that the person he puts in beside him does not get drawn forward because Liverpool want you to do that."
Nevin believes Wenger will also be making a crucial psychological points to his players, adding: "Arsenal have really had a great season, they're pretty high up in the league but anyone who bothered to look ahead to what February and March looked like would have realised it was going to be one hell of an effort to keep it all going.
"What he has to say is 'look at the season we have had'. Let's remember they are higher up the league than Liverpool. It was one result and they could even make the argument that from 20 minutes onward they drew 1-1."
Nevin believes Liverpool now present a different tactical conundrum for teams, one Wenger will be only too aware of after that Anfield mauling.
He said: "I believe Arsenal had more possession than Liverpool on Saturday. In a tactical context, Liverpool are a leopard that has changed its spots.
"When Brendan came in he wanted pure domination of possession. Now they actually don't want it, they want to draw teams on to them because Liverpool's strength is their pace in breaking."
Nevin believes Liverpool's adaptability presents the major problem Wenger will need to resolve in order to get a different outcome from last Saturday's humiliation.
"Don't be surprised if Suarez plays more centrally than he did on Saturday, when he was wider on the right, causing problems out there and leaving Daniel Sturridge in the central position. I think Brendan Rodgers is capable of changing it quite regularly.
"I think Sturridge is the main central striker and always should be, whereas Suarez can play anywhere. I still think he is more of a "10" than a centre forward.
"The problem Wenger has got is that there are so many options for Liverpool. They can go 4-2-3-1, with Suarez or Philippe Coutinho coming from deeper areas and all these forward players are so interchangeable and adaptable."
Former Tottenham manager David Pleat told BBC Sport: "Arsene's philosophy won't be turned or changed by one game. He will look at all the aspects of the game: who did Liverpool get in those positions, particularly early on, to exploit a square defence or space behind a defence, and how they failed to cope with the speed of Liverpool's forwards.
"More importantly, from a tactical point of view, he may look at who is providing the ammunition. He might look very closely at the passes Liverpool's forward players are receiving and try to quell the passes with more determination in midfield.
"Playing at home is a big advantage. It is not as though they have to overturn a 5-1 deficit, they just have to win the game. I don't think they will alter the team's shape particularly but I would imagine Tomas Rosicky would figure and possibly Flamini.
"Arsene Wenger is very experienced, very wily. He doesn't give his players too much information. He just gives them enough then gives the player responsibility to carry out basic instructions, to exploit those instructions, then embroider them.
"What he will be saying is that every game is different. All manner of conditions and factors will be different."
According to Pleat, Liverpool manager Rodgers will be doing some plotting of his own based on that emphatic Anfield win.
"He will do some second guessing," said Pleat. "Brendan must wonder how Arsenal will react and then, of course, how he will react to that. All good managers have the foresight to wonder what will happen next.
"Brendan has got something unique at Liverpool and quite an advantage. He has got three forwards who, on their own, can take a ball and dribble with speed as an individual.
"I don't know another team in the Premier League who have three attackers who can all dribble, take on an opponent and score a goal - also provided for by the likes of Philippe Coutinho and Steven Gerrard."
Pleat added: "Of course Liverpool's players will be confident after winning the game at Anfield, but I think a lot is to do with how Arsenal start the game. They started poorly at Liverpool. They were asleep and got punished. They couldn't recover.
"At Premier League level if you go two down early it is very, very difficult to recover that position because teams are so good at sitting deep around the box, repelling raids and then countering.
"Many people will favour Liverpool, and that result will give them a very slight advantage, but I don't believe it holds too much water and this is far closer than people would imagine."
Wenger must be successful in producing the answers if Arsenal are remain on course for reclaiming the trophy that provided him and them with their last silverware in 2005.