Newport County 'not helped' by inactivity, says Justin Edinburgh
Last updated on .From the section Football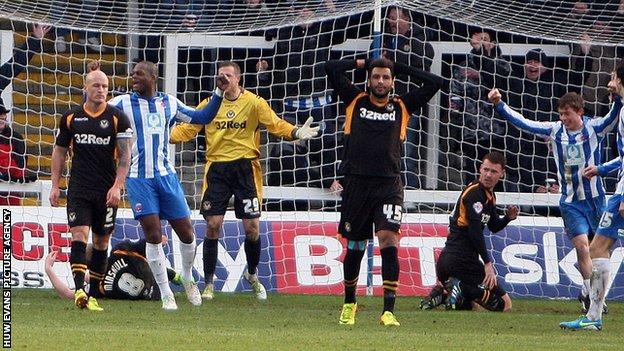 Manager Justin Edinburgh says Newport County's lack of games proved crucial in his side's loss at Hartlepool.
The Exiles have had six of their last seven home fixtures called off, with the 3-0 defeat their first match in 15 days.
"We're not going to use it as an excuse of why we lost, but it hasn't helped us," Edinburgh said.
Their Rodney Parade pitch is again subject to an inspection ahead of Tuesday's home game with Oxford.
Edinburgh said this team's rustiness was clear against Hartlepool.
"It was our first game in two weeks and it was two weeks before that," he added.
"We haven't played much football this year.
"Hopefully the weather's going to be kind to us next week and we can get some games at home.
"It's been horrendous and the club's trying to do their utmost to get the games on. It's been a real uphill battle.
"But what we know is them games have got to come so what we've got to do is focus and make sure we capitalise when we do play at home."
County have only played once at home so far this year and claim to have lost £180,000 in gate receipts as a result of the postponed matches.
Tuesday's scheduled match against Oxford United is the first of five consecutive home games and Edinburgh hopes his side can take full advantage.
"That's what we've got to capitalise on and that starts Tuesday at home to Oxford," Edinburgh said.
"It will be nice to get home and start playing some games."