Manchester City benefited from midweek break - Manuel Pellegrini
By Chris Bevan
BBC Sport at Etihad Stadium
Last updated on .From the section Football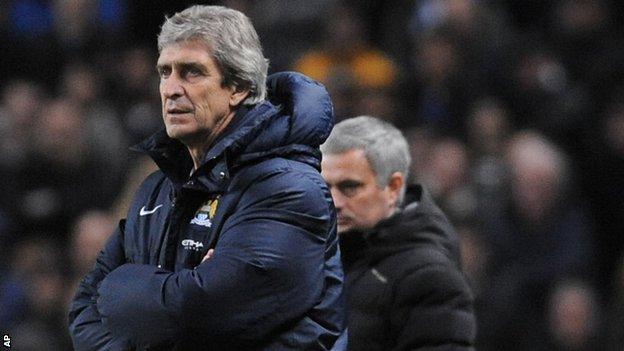 Manchester City boss Manuel Pellegrini felt his side were refreshed for their FA Cup win over Chelsea because they rested instead of playing in midweek.
Wednesday's Premier League game with Sunderland was called off because of high winds at Etihad Stadium.
"It was very important for us not to play," Pellegrini said. "We were not fresh after 18 games in two months.
"But in training on Thursday and Friday we were fresh again. I knew then we would have a good day against Chelsea."
City have been beaten twice in the league by Chelsea this season, and lost their 100% home league record to the Blues earlier this month.
Pellegrini's side followed that defeat with a disappointing draw against Norwich last weekend and he put that dip in their performances down to them being tired.
But he felt City were back to their best on Saturday as they dominated the league leaders from start to finish and reached the FA Cup quarter-finals thanks to goals from Stevan Jovetic and Samir Nasri.
"On Saturday, we saw again the City team that was playing before the Chelsea game," Pellegrini added. "We played very well in every department."
Chelsea boss Jose Mourinho, whose team drew with West Brom on Tuesday, conceded the best team won but also thought that City having extra time off was a factor.
"It was clear that there was a difference in freshness between the teams," Mourinho said. "One team played two days ago and another team played last week and had one week without competitive football."
Pellegrini felt it was especially important to beat the Blues after losing to them at home on 3 February but said he did not believe he had anything to prove tactically after that previous encounter.
City's attacking outlook in Pellegrini's favoured 4-4-2 formation has now seen them score 117 goals in 40 games this season but the manner of their defeat by Chelsea led critics to doubt whether it would work against the very top teams.
Pellegrini said: "I had a lot of questions when we lost to Chelsea the other day, with people asking me if I would change our way of playing because we lost 1-0.
"I repeat that this team will not change the way we play. This win showed why we will continue to the end of the season in the way we think we must do it.
"I also don't think we had any tactical problems against Chelsea before, it was just that they scored before us and then made it a difficult game.
"We did not have any tactical problems against them and this was not a master tactical victory for me, because I don't believe in those things."