Arsenal v Bayern Munich: The win that kick-started a Gunners revival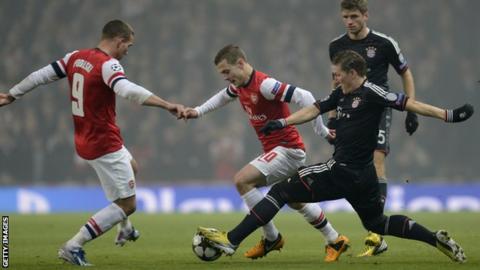 Arsenal face Champions League holders Bayern Munich at Emirates Stadium after taking two significant steps on the road to recovery from their public humiliation at Liverpool.
Manager Arsene Wenger knew his side needed a response to that 5-1 defeat at Anfield with their season reaching defining moments on three fronts.
This has been achieved with a solid, if unspectacular, clean sheet in the goalless draw at home to Manchester United and then by exacting revenge on Liverpool with an FA Cup fifth round victory at the Emirates.
So with the Premier League ship steadied and FA Cup progress secured, the greatest test of all now comes in the shape of a last-16 Champions League meeting with Bayern, arguably Europe's finest side now under the guidance of coach Pep Guardiola, twice a winner in this competition with Barcelona.
And with confidence being rebuilt in the past week, can Arsenal take further solace in their victory in The Allianz at this same stage 11 months ago - when a 2-0 victory shocked Bayern, who were relieved to advance on away goals after a 3-1 win in London?
It is a victory that is now seen as the first building block in Arsenal's return towards the top of the Premier League table and renewed optimism that this can be the season when Wenger ends the wait for a trophy stretching back to the 2005 FA Cup final win against Manchester United.
Theo Walcott, currently recovering from a cruciate ligament injury in his left knee, is in no doubt about the significance of the match in Germany.
"We've learnt from so much experience we've had in the last year," he said.
"Ever since that Bayern Munich result, really, it's changed the whole club."
Study the statistics and it bears out the theory that even though the win in Germany did not produce aggregate victory for Arsenal, the lift taken from beating the eventual winners in their own imposing arena had a positive knock-on effect.
In 49 games before that meeting in Munich, Arsenal won 23, drew 14 and lost 12. Since that win, with goals from Olivier Giroud and Laurent Koscielny, they have won 34, drawn eight and lost seven.
The win percentage before was 47% and afterwards, including Sunday's 2-1 win against Liverpool, it has now been elevated to almost 70%.
It has made a clear difference to their league form as well, winning 25 out of 36 games since the victory over Bayern, bringing a points return of 82. This puts them at the top of the points list of the Premier League's top 10 since then - Chelsea are second with 79 points from 35 games.
Contrast this with, for example, Manchester United, who have just 60 points from 36 league games played since that day.
For Arsenal, the figures suggest that win did mark a turning point - at least in injecting some self-belief into players who were still under heavy fire from their own fans for a shock FA Cup fifth-round home defeat by Championship Blackburn Rovers just days before the first leg against Bayern.
So, even if the second leg win can only be regarded as symbolic, will it make a difference to their mindset going into their latest meeting with an undisputed European football superpower?
Former Tottenham manager David Pleat told BBC Sport: "It won't be easy for Arsenal but the fact they have beaten Bayern should certainly give them some confidence.
"I think if they have beaten Bayern before, then they must believe. Arsene always says the focus, mentality and concentration of his players is right. If it is, then he must believe those players have the mental strength to go in there and do it again, although of course the first leg is again at home and Bayern are a wonderful side."
Pleat is a huge admirer of Wenger and his methods but worries Arsenal may suffer from a lack of firepower, with only Olivier Giroud as a proven top-class striker.
He added: "They have got enough players who are capable of passing well and keeping the ball but I'm not sure whether they have got enough thrust against top, top sides to score the vital goals.
"They haven't really got what I would call two recognised top front men and as a consequence Arsene has to play with a semi-second striker.
"There is no problem with that, provided he is schemer in the way that I had Glenn Hoddle and Clive Allen at Spurs, and if the other people are scoring goals or the front man is scoring buckets full of goals.
"Can they score enough goals? Can they make enough positions to score those goals? I think it is difficult without Theo Walcott's pace, particularly when he is used late on in games and teams are trying to get level with Arsenal. He is quick and exploits space."
Mark Lawrenson was BBC Radio 5 live's pundit in the Allianz Arena that night last year - and does not attach great significance to Arsenal's victory as an indicator to this year's prospects.
"They won't be frightened of playing Bayern and of course you always remember when you go to a class side in their own stadium and win," he said. "But I think it will be a completely different animal to the one they faced in March.
"Bayern were not bothered. Arsenal played very well on the night and got very close to getting through with the extra away goal, but even the Bayern fans just turned up for a party and Bayern didn't play a full-strength team.
"It was a good result but I'm pretty sure within a few minutes of watching the game start I was thinking if there were any 50-50s there were not too many Bayern players winning them. Bayern then lost their way and it almost backfired on them."
And Lawrenson believes that under Guardiola, Bayern may be even more powerful now than when they won the Champions League last season, a run that included a 7-0 aggregate win over Barcelona in the semi-final.
"You get the feeling they are desperate to become the first team to win back-to-back Champions Leagues," said Lawrenson.
"They have got a new coach in Pep Guardiola who is driven by the whole thing. He wants to show he can do it at another club and silence anybody who still wants to downgrade his achievements at Barcelona by suggesting he inherited the best team in the world.
"If anything it probably strengthened their team and they have a real swagger. When I saw Bayern at Manchester City this year what impressed me so much was how hard they all worked, including Franck Ribery and Arjen Robben."
Since last year's tie Arsenal have brought in their own German influence in playmaker Mesut Ozil.
He was a £42.4m summer signing from Real Madrid and a meeting with Bayern will provide the perfect platform for this graceful midfield man to answer those who have been critical of his recent performances.
Lawrenson added: "Ozil's form has tailed off in recent weeks but this is the perfect time for him to raise his game.
"No doubt the German national coach Joachim Low will be watching so it's a showcase day for Ozil."
Arsenal do have a formidable Bayern barrier to overcome - but Wenger and his players can take comfort in their impressive statistics since they won in Munich and the manner in which they have responded to their most damaging defeat of the season.