Celtic boss Neil Lennon buoyed by win over St Johnstone
Last updated on .From the section Celtic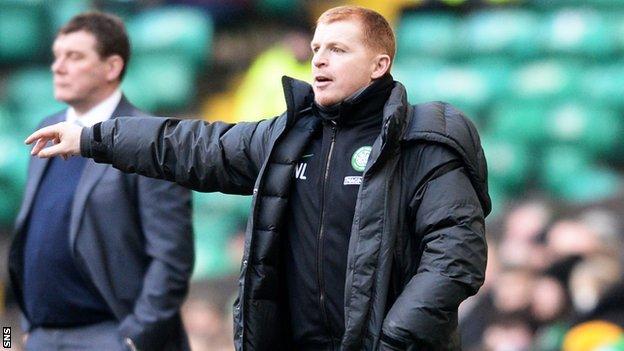 lifted the spirits of their manager Neil Lennon after a week assessing the Scottish Cup home defeat by Aberdeen.
Anthony Stokes's hat-trick re-established Celtic's 21-point lead at the top of the Scottish Premiership.
"I am very happy. It was a brilliant performance more or less from start to finish which makes last week even more of an aberration," said the manager.
"I just wanted to get today out of the way after last week."
Lennon told BBC Radio Scotland that it had been "a difficult couple of days" after the Cup exit to the Dons last Saturday ended their hopes of a League and Cup double.
"I couldn't be happier with the reaction I got from the players and I couldn't be happier with the support we got today," he added.
"They created a great atmosphere. It's been a very good day.
"We have been playing so well for nigh on six or seven weeks now and we just have to put that one behind us.
"We want to be relentless in our pursuit of the title and I think the players made that pretty clear today.
"That has given me a huge boost."
Stokes's hat-trick took his season tally to 11 and Lennon feels "he is now getting the goals his performances deserve".
The manager mentioned several other players in his post-match interview, with midfielder Nir Biton, striker Leigh Griffiths and substitute left-back Darnell Fisher all catching his eye.
"A lot of players can be very pleased with their contribution," said Lennon.
"I thought Biton was superb. He has struggled a wee bit to reach the pace of the game but he was outstanding. He read the game brilliantly.
"Griffiths worked tirelessly for the team and Fisher was excellent in the second half."
The 19-year-old defender replaced Emilio Izaguirre in the first half, an enforced change caused by a thigh injury to the Honduran.
The Celtic medical team will assess the complaint on Monday but Lennon is concerned about a longer absence.
"He's the only real, recognised left-back that we have at the minute and he has been very consistent for us," he said.
English goalkeeper Fraser Forster took his record of successive clean sheets in the league to 12 games. He has not let in a league goal in 1,125 minutes and did very well to prevent a Saints goal when Nigel Hasselbaink's cross deflected off Efe Ambrose and headed for his near post.
"It was a brilliant save," Lennon commented.
"The ball's going one way and he was moving the other and he managed to stick a leg out and keep the record intact so he'll be delighted with that."
Prior to kick-off the Northern Irishman scoffed at press reports of him saying he had taken Celtic as far as he could.
He said: "I never said that. On the contrary, I'd rather stay here for as long as I can and build another team. I can't be blasé enough to say I'm leaving and going to get a job somewhere else.
"I'm in a very privileged position here. What I said was this season hasn't been as good as last season.
"Every year it gets harder, more and more claustrophobic. It can be quite suffocating at times. It has been a tough season away from the pitch but on the field we've still got a very good team.
"You can look too far ahead. You never know in a manager's position where you're going to be in six months' time."