Arsene Wenger: Jose Mourinho has embarrassed Chelsea
Last updated on .From the section Football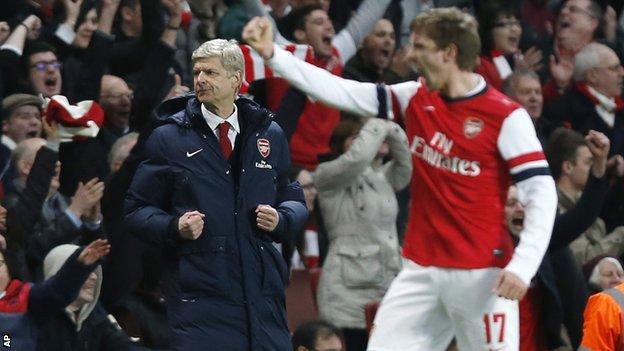 Arsenal manager Arsene Wenger says Jose Mourinho has embarrassed Chelsea by calling him a "specialist in failure".
Blues boss Mourinho made the remark after Wenger said other Premier League managers were playing down their title chances because they "fear to fail".
But, after Arsenal's 2-1 FA Cup win over Liverpool, Wenger said Mourinho's words were "silly and disrespectful".
Chelsea top the Premier League by a point from the Gunners, with Manchester City another two points back in third.
"I do not want to go into that silly, disrespectful remark," Wenger told BT Sport.
"I never spoke about him in my press conference and I will not start.
"The only thing I know is it's more embarrassing for Chelsea than for me. I'm embarrassed for him, honestly. I'm not interested in the subject at all. That is really genuine.
"I love football - and I'm sorry to disappoint you - what's interesting for me is what happens on the pitch."
Mourinho has previously criticised Wenger, the Blues boss having described him as a "voyeur" in 2005 after his rival questioned Chelsea's transfer policy.
On Monday he was quoted by several newspapers as saying: "The only thing I feel is that I was very quiet in my place and somebody spoke not in a nice way about us.
"After that, I don't accept that one is always 'Monsieur polite' and the other one is always the bad guy. I don't accept, I'm sorry."
Former Arsenal goalkeeper Bob Wilson told BBC Radio 5 live on Sunday that the Portuguese is a "bully" engaging in "boring" mind games.
Wenger's side moved into the FA Cup quarter-finals with victory in an enthralling fifth-round tie on Sunday.
Goals from Alex Oxlade-Chamberlain and Lukas Podolski put Arsenal, who have not won any silverware since their 2005 FA Cup triumph, into the last eight.
It helped avenge last weekend's 5-1 thrashing at Anfield in the Premier League, while also providing a timely confidence boost ahead of Wednesday's visit of Champions League last-16 opponents Bayern Munich.
But after Steven Gerrard gave the visitors hope with a 59th-minute penalty, the Gunners were fortunate not to concede a second spot-kick for a clumsy Oxlade-Chamberlain tackle on Suarez.
"The intensity of the performance pleased me, I am very proud of the way we responded to the huge defeat that we had last week," said Wenger.
Mourinho's side were eliminated from the FA Cup by a 2-0 defeat at fellow title chasers Manchester City on Saturday.