World Cup 2014: Will stadiums become white elephants?
By Tim Vickery
South American football writer
Last updated on .From the section 2014 Fifa World Cup249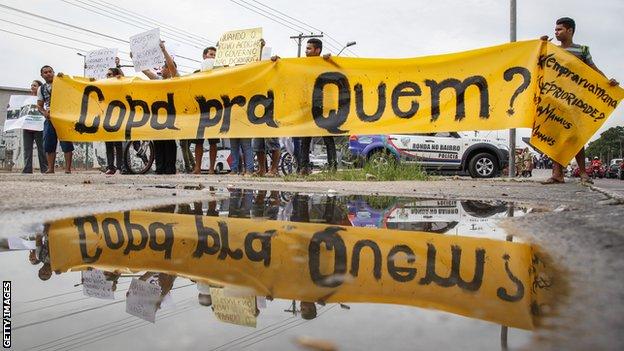 Logistical questions take on obvious importance when the World Cup is held in a country as large as Brazil.
This week in Florianopolis, in the south of the country, Fifa will be holding workshops for all the World Cup delegations, their team coaches and specialists in the areas of medicine, media relations, accommodation, transport and marketing. Security and logistical planning are on the agenda too.
The first workshop is on Wednesday - which means that Tuesday, 18 February has been established as the cut-off point for 2014 host cities to demonstrate they can handle the tournament. There is no point, after all, in holding a logistics get-together if there is uncertainty about venues.
The most vulnerable of the 12 host cities is Curitiba - although a late problem has also appeared in the other southern venue, Porto Alegre.
The stadium there, Beira Rio, had its first test on Saturday in front of a 10,000 crowd. There is still plenty of work to be done outside the ground, but the sticking point that has emerged is the temporary structure for the media. Who should pay for it?
In theory, Curitiba and Porto Alegre should present the fewest problems of all 12 World Cup venues.
They are by some distance the cheapest of all the stadiums. We are not dealing here with new constructions, or even major rebuilding jobs. In both cases, improvements are being made to existing stadiums.
But who should pay? Many stadiums in Brazil are municipally owned. But the south has a different tradition. These grounds belong to local clubs - Atletico Paranaense in Curitiba and Internacional in Porto Alegre.
The clubs, then, have to pay part of the cost. But how much, and what for? The clubs have done their sums and are fretting.
Their worry is simple; is their World Cup outlay really justified when measured against the money generated by domestic Brazilian football?
It is a query that casts doubt on much of the 2014 stadium spending. It has always seemed likely that four of the new grounds might later fall into the category of 'white elephants' - underused facilities, expensive to maintain.
Cuiaba and Manaus are expected to fall into that category. So could Natal, while Brasilia - the most expensive of them all - will surely only be viable if teams from elsewhere are ordered to stage matches there.
The others, though, are sure to be well used. Even so, the Rio-based American academic Christopher Gaffney argues that "in reality, all of the World Cup stadiums are white elephants".
His argument is based on the fact that after being recipients of huge amounts of public money, the stadiums in Brazil's heartland have been handed over to private consortiums, who will run them on the basis of profit.
This will result, he feels, in escalating ticket prices - and so the taxpayer, who shelled out to build the stadiums, will be fleeced once more every time he or she buys a ticket.
It is an interesting point of view. A realistic doubt, though, is whether, under Brazilian conditions, pushing up the ticket prices is good business.
On Sunday, I was at the Maracana for Rio's biggest derby match, Flamengo against Vasco da Gama. The so-called 'derby of the multitudes' attracted a paying crowd of just 13,245.
There were banners in the stadium complaining at the ticket prices (cheapest for a non-club member was around £20). It is impossible to look around the swathes of unsold seats without concluding that there must be a better way to go about things.
English football is, of course, a powerful reference in this process of stadium improvement and sanitisation.
Anyone who lived through the years of change in England will conclude that things are lost as well as gained.
It would seem clear, for example, that some kind of trade-off exists between comfort and atmosphere.
A guaranteed seat and good access precludes the old need to arrive early for big games. In modern grounds, the pre-match atmosphere is often constructed by the big screen, rather than formed organically from the buzz on the terraces.
The most dangerous aspect of escalating ticket costs is that the next generation of players are priced out of the ground.
But in England, for all those who can no longer afford to go, plenty of others have appeared. Average crowds are higher now than in the years immediately before sanitisation.
They are more diverse, too, with far better representation of women and ethnic minorities. The process in England also benefited from a huge stroke of luck.
The skill, drama and charisma of England's team in the 1990 World Cup captured the nation, creating new fans for football and reminding lapsed ones of the game's appeal. With demand rising, English football was able to put up its prices from a position of strength.
Very little of this applies to contemporary Brazil. There is no real local equivalent of the English immigrant communities from the Caribbean and the Indian sub-continent, capable of being lured into the stadium if the conditions are right.
Exclusion in Brazil happens overwhelmingly on a financial basis. For all the progress the country has made in recent years, income distribution remains grossly unfair.
The calendar of the domestic game is clogged up with meaningless fixtures - indeed, the most interesting development in years in Brazilian football is a growing revolt of the players on their working conditions, and specifically on the organisation of the calendar.
The players, many of them with top level European experience, are acting on an awareness that they know more about their industry than those who are supposed to be running it.
In current conditions, putting up ticket prices will inevitably result in (at best) half-filled stadiums. And when every unsold seat is a worthless asset, that can hardly be good business.
Comments on the piece in the space below. Questions on South American football to vickerycolumn@hotmail.com, and I'll pick out a couple for next week.
From last week's postbag:
There seem to be so many Brazilian footballers playing in Ukraine even though it hampers their international chances. Shakhtar Donetsk, for example, have Douglas Costa, Fernando, Alex Teixeira, and Taison. So why do Brazilians go there, and why aren't most Premier League clubs looking to sign them despite their obvious quality? Michael Lim
Two reasons. The Brazilian clubs are often looking for a quick cash fix, and will sell to anywhere it's coming from - more are now starting to move to China for a similar reason.
And in terms of the Premier League, these players straight out of Brazil would not have qualified for a work permit. The English clubs, then, have to play a role of 'secondary scouting' - instead of buying the players from source, they have to observe their development in other European leagues.
I was wondering why Argentina never gave goalkeeper Julian Speroni a chance. He's been Crystal Palace's best player for the better part of a decade. Do you think playing in England, or perhaps playing mainly in the Championship, has counted against him? Peter Newman
That is clearly a major factor. And it also really counts against him that he didn't play in Argentina - just a couple of games for little Platense before making the move to Scotland. So the Argentine public don't really know him - or have only got to know him this year if they're following the Premier League.
I see Speroni is still hopeful of a late call up for the 5 March friendly against Romania, but it hardly seems likely. If coach Alejandro Sabella is going to bring in a new keeper, then Willy Caballero of Malaga would seem to have stronger credentials.