Man City better than Man Utd - Manuel Pellegrini
Last updated on .From the section Football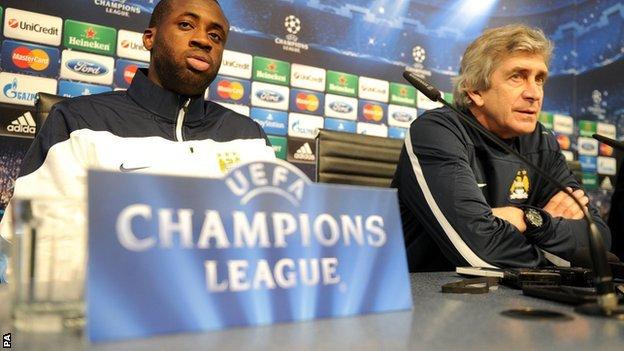 Manchester City manager Manuel Pellegrini says his side have become the dominant force in the city this season, as they prepare to take on Barcelona in the last 16 of the Champions League on Tuesday.
The Chilean acknowledged Manchester United's record, but said City's results in the present campaign meant they had overtaken their rivals.
"If we only consider this season, there is just one club in Manchester and it is ours," he said. "But you cannot forget what United have done."
He added: "We are aiming to keep growing by winning many trophies - not just national but international trophies."
City are third in the Premier League and trail Chelsea by three points with a game in hand.
They have reached the final of the Capital One Cup, are in the last eight of the FA Cup and, including their Champions League quest, are challenging for four trophies this season.
Meanwhile, 20-time league champions United are seventh in the top flight and face Olympiakos in the last 16 of the Champions League, but have been knocked out of both the domestic cup competitions.
City will be without Sergio Aguero for the visit of the Catalan giants, but Pellegrini says Brazilian midfielder Fernandinho could feature as he returned to training on Monday.
"It is a good test. It is important," Pellegrini said of Barcelona. "But I don't think it is the most important thing because we are just in the round of 16.
"We can beat Barcelona and maybe in the next round you can have defeat. This club is trying to develop those areas.
"So far we have had a good season and we must finish that way. One of our targets is to continue in the Champions League knowing we play against the most important club in the world."
Lionel Messi is expected to spearhead the Barcelona attack at Etihad Stadium, but Pellegrini said City would have to do more than simply stop the Argentina international in order to win.
"He is a top player of the world," Pellegrini said. "He has a lot of different things.
"He is fit, has a good finish, but I don't think Barcelona is Messi. You can have Messi tight and other players will decide the game."
The City manager went on to say comparisons with the Barcelona side that won the Champions League in 2009 and 2011, were not fair. "It is a different team," he said.
"It is very difficult to continue in the same level Barca played in the same level three years ago but if you review the season, they are top of the Spanish league, in last 16 of Champions League and in final of the Spanish Cup.
"If we are to have a good result we must play a very good game."