Lacina Traore sets sights on FA Cup glory with Everton
Last updated on .From the section Football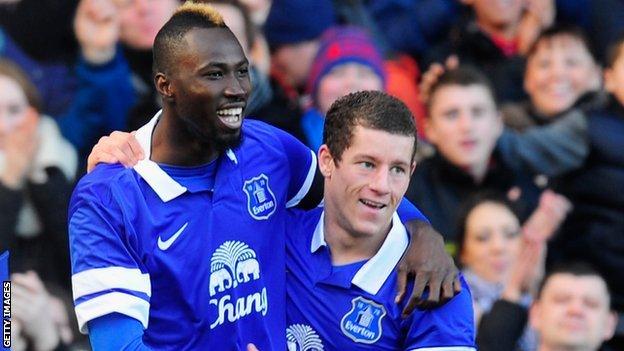 Ivory Coast striker Lacina Traore believes he can help Everton to win the FA Cup after scoring on his debut in Sunday's fifth-round win over Swansea.
"It was a pleasure to start my first game and to cap it with a goal was great," he told the club's website.
"I think we can go all the way, hopefully. We'll be fighting hard to get to the final in this competition."
Everton will travel to Arsenal for a quarter-final tie on 8 March, by which time the 6 ft 8 in Traore will have had more time to regain full fitness, having arrived at Goodison Park with a hamstring injury.
"When you think it's been nearly five months since I played a competitive game, it was great to get 60 minutes under my belt," said Traore.
"I'll start to feel even better when I've had a few more games, but I feel good now. I will start to get my full match fitness and continue improving.
"I'm hoping to get to my top level, my peak fitness as soon as possible - and it's only with working hard in training and playing those minutes out there on the field in games that that will happen."
Everton boss Roberto Martinez was also pleased with Traore's contribution.
"It was good that Lacina Traore got a goal and played for an hour, which was our aim for him," he said.
Looking ahead to the match against Arsenal, Martinez added: "We will have to be at our best but it is something to look forward to."