Adnan Januzaj invited to play for Kosovo in friendly match
Last updated on .From the section European Football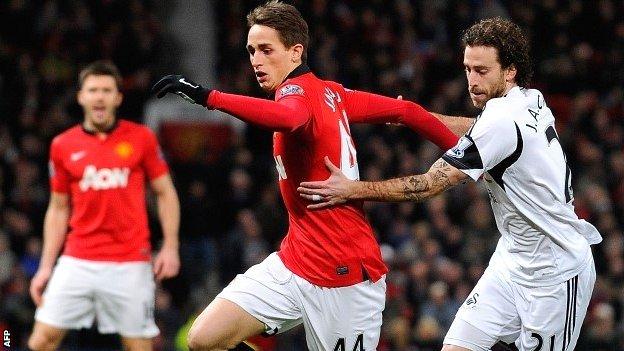 Kosovo have asked Manchester United winger Adnan Januzaj to make his international debut in a friendly against Haiti on 5 March.
Januzaj, 18, could represent Albania, Belgium, Turkey, Serbia and, potentially in the future, England.
If Januzaj played for Kosovo, he would not jeopardise his future choices as only competitive games prevent a player from representing another nation.
"The invitation is symbolic," the Balkan country's federation (FKK) said.
Fifa ruled last month that Kosovo, which is still not a United Nations member, may play friendlies against other nations excluding those which emerged from the former Yugoslavia.
However, they will not be allowed to display national symbols or play their national anthem and the game will not count as an official international match.
The game against Haiti in the northern Kosovan town of Mitrovica.
FKK general secretary Eroll Salihu said the federation had spoken to Januzaj's father and uncle to confirm he would be free to choose another country in the future.
Salihu said: "We believe that he is obliged to show his people that he will be there when needed in a historic moment.
"We should have an answer by the end of this week and Januzaj's appearance would simply show that he has not forgotten his people, even he can play only for 10 or 15 minutes.
"It's a friendly so it will not be an obstacle and he would be eligible to play for whoever he chooses."
Kosovo's complicated political status has seen several players born in the state play for different countries, including Xherdan Shaqiri and Valon Behrami (Switerland), Shefki Kuqi (Finland) and Lorik Cana (Albania).
Januzaj, who signed a new five-year-deal with Manchester United last October, was born in Belgium and has Kosovan-Albanian parents.
He could also represent Serbia after Kosovo declared independence from the country in 2008, while his grandparents are Turkish.
The teenager could play for England by 2018 because Fifa rules allow a player to represent a team if "he has lived continuously for at least five years after reaching the age of 18".
England boss Roy Hodgson said he would leave to the Football Association board to make a decision on whether they would seek to recruit Januzaj but it is understood there is currently no FA policy on this issue.