Man City face worst Barcelona team for years - Jose Mourinho
Last updated on .From the section Champions League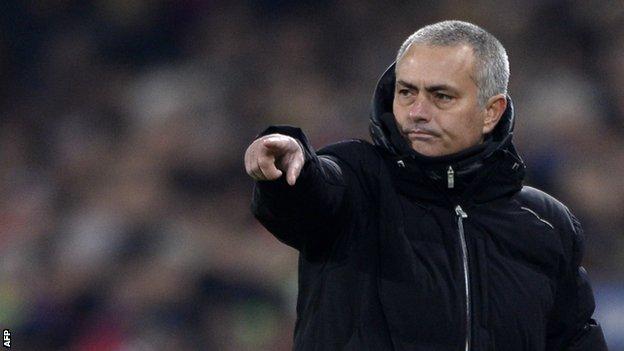 Chelsea manager Jose Mourinho claims Manchester City will face "the worst Barcelona of many, many years" in the last 16 of the Champions League.
The Spanish side won the competition in 2009 and 2011 but have failed to make it past the semi-finals since.
Former Real Madrid coach Mourinho said: "City have a chance."
Meanwhile Barcelona defender Gerard Pique says his team may have lost their fear factor ahead of the first leg at Etihad Stadium.
Mourinho, who worked at Barcelona under the late Sir Bobby Robson, has had a tense relationship with his former club and appears to have stirred the tensions ahead of the game.
"Of course by history Barcelona is the favourite, but this Barcelona, this season, is showing that it is not the same in previous years," he told ITV.
"Of course, they have [Lionel] Messi - he is special - and they have more than him. But I think this is the worst Barcelona of many, many years."
Mourinho's comments came after former Manchester United centre-back Pique admitted his side may not be as highly regarded as they once were.
He said: "Maybe they don't fear us as before because in the last two years we didn't win the Champions League.
"We can still be the best, but we have to show to the world we can do it."
Barca's most recent Champions League successes came under former coach Pep Guardiola, but Tito Vilanova's side were thumped 7-0 in a two-legged semi-final by eventual winners Bayern Munich last season.
The club - with Gerardo Martino now in charge - have had to contend with off-the-field problems this term, with the transfer of Brazilian forward Neymar under investigation by a Spanish court and Sandro Rosell resigning as club president as a consequence.
Meanwhile, Manuel Pellegrini has guided City to the Champions League knockout stages for the first time, their free-scoring football including a 3-2 win over Bayern at the Allianz Arena.
Such an approach has drawn comparisons with Barcelona, and Martino said City, who are chasing a quadruple of Premier League, FA Cup, League Cup and Champions League titles, were one of the best teams in the world.
The Argentine, whose side are top of La Liga, said: "They do play a similar style to us, but they are not a mini-Barcelona or a mini-anyone else.
"I think they are one of the greatest teams in the world.
"They have great Spanish players such as Jesus Navas and David Silva, but it is not only Spanish players.
"They have great players from all over the world such as Yaya Toure, Sergio Aguero and Fernandinho."
City will be without top scorer Aguero, who has a hamstring injury, but Brazilian midfielder Fernandinho could return after injury.
Martino said: "For the last six seasons Barcelona have made it to the semi-finals and the fans are used to that.
"It will be difficult to understand if we don't go through but it is the tightest tie of all."
Pique, 27, added: "The only way we have to speak is on the pitch. We know that in the club in the last six months there were some things that we cannot control as players.
"All we can do is play on the pitch and show the world that we can still be the best and try and play a great game against a great team like Manchester City."