Hearts: Ann Budge seeks fans' financial support
Last updated on .From the section Hearts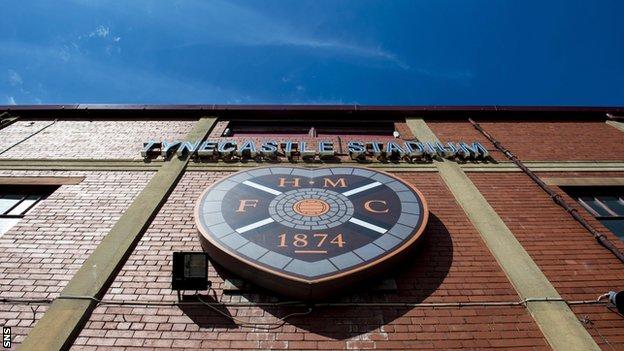 Hearts executive chairwoman designate Ann Budge has urged supporters to continue to pledge their help to realise fan ownership of the club.
In a statement issued by the Foundation of Hearts group, Budge argues that financial support from fans is crucial to long-term stability.
"The club needs your financial support to see us through the next two years," read the statement from Budge.
"Your contributions are required to secure supporter ownership."
BBC Scotland revealed last week that Budge was behind a deal which could allow Hearts to exit administration.
The 66-year-old businesswoman is the sole director of BIDCO 1874, the company that has struck a £2.5m deal with administrator BDO, which could mean a move out of administration by April.
Budge was the founder partner of the IT company Newell & Budge, which was sold to the French company Sopra in 2005 for a reported profit of about £40m.
BDO agreed a deal with BIDCO 1874 for the purchase of the shares from the club's majority shareholder UBIG, the bankrupt Lithuanian institution which holds a 78.97% stake.
The deal needs to be ratified at a UBIG creditors' meeting, scheduled for late March.
Budge's statement reads as a direct appeal to Hearts fans to increase their personal investment in the club by attending matches, purchasing merchandise and pledging cash, in addition to her own personal pledge to guide the process of fan ownership.
She said: "My task, as I see it, is to ensure that when I hand the club over to you, the supporters, I will be handing over a club in good shape and with sufficient resources to face the challenges of the future.
"To achieve this the club needs investment over the next two years to stabilise and then build a solid financial base.
"Some of you are asking how long you might be asked to contribute.
"Beyond that, and once ownership passes to the fans, it will be for you, the supporters, to agree the financial priorities of your club.
"These supporters have started to build the cash reserves to enable fans' ownership to become a reality, which will ultimately put an end to private ownership of our club."