Reading takeover: Sir John Madejski keen to find right owner
Last updated on .From the section Football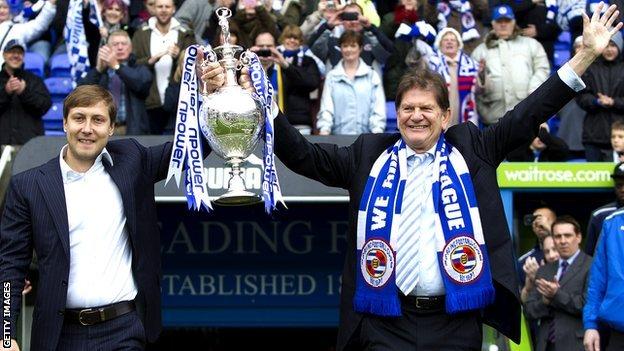 Chairman Sir John Madejski says he is determined to sell Reading to the right person this time around.
Madejski sold 51% of the club to Anton Zingarevich in May 2012 but the Russian is no longer involved.
Zingarevich had vowed to be a long-term investor but has left Madejski to find a new owner.
"I will try not to make the same mistake again - a buyer who does not see the whole thing through," Madejski told BBC Radio Berkshire.
Zingarevich was due to purchase the remaining 49% of shares from Madejski in September 2013, but he failed to complete the deal and has not been seen at a league game since 17 August.
Since the Russian became involved with the club in January 2012, Reading have been promoted to the Premier League, relegated back to the Championship and have also changed their manager.
Promotion to the top flight in 2012 earned the Royals an estimated £90m, with half that money coming from television-related revenue.
However, Zingarevich has since decided to sell his share in the club despite saying in June 2012 he felt a responsibility to ensure their financial stability and that he was excited by their potential growth.
"It is very important we find somebody that's earnest about owning a British football club if they're foreign, and see the job through," added Madejski.
Investors from the United States and Oman had been interested in buying the club but Madejski said there were currently no firm offers.
He also added that the past six months, in which Zingarevich's interest and involvement in Reading waned, had taken its toll on the 72-year-old, who has been chairman since 1990.
"Football is very mercurial and very expensive and it is not for the faint-hearted," he added.
"The last six months have not been easy and it is still not easy. Football is very expensive and requires deep pockets, so no it has not been at all pleasant.
"Anyone who gets involved in football has got to have a big heart. Clearly we need someone with deep pockets. Any club does."