World Cup 2014: Curitiba stadium earns Fifa reprieve
Last updated on .From the section 2014 Fifa World Cup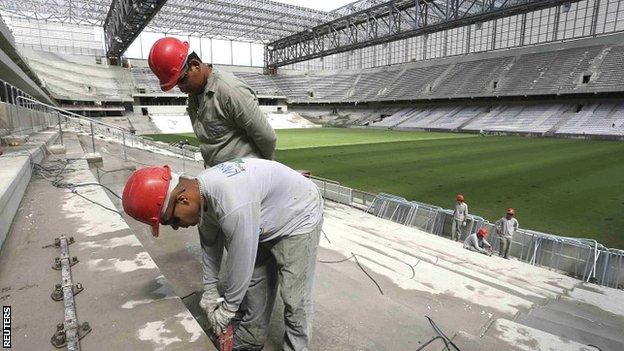 Brazilian city Curitiba will remain a venue for this year's World Cup but world governing body Fifa said progress must continue at the "highest pace".
The Arena da Baixada in the south of the country was one of six venues to miss an initial 31 December deadline.
Organisers brought in hundreds of extra workers to meet building requirements and avoid being the first ground to be dropped from a World Cup.
The 40,000 stadium will stage four group matches at the tournament.
Last month Fifa warned that Curitiba could be excluded unless work speeded up, with secretary-general Jerome Valcke commenting that operations were seriously behind schedule.
However, after financial guarantees for the improvement works were provided, the home of Brazilian top-flight club Atletico Paranaense was cleared to continue.
Valcke said: "It is essential that the works are maintained at the required levels and that a collective effort by all the stakeholders involved in Curitiba continues.
"It is a race against a very tight timeline and will require regular monitoring, but we are counting on the commitment made by Atletico Paranaense, the city and the state of Curitiba."
At least 1,500 workers are now expected on site, and is it hoped the stadium will be completed by mid-May.
Ricardo Trade, chief executive of the local organising committee, said: "There is still a lot to be done but we have always been confident that Curitiba will deliver.
"The necessary measures to finish the stadium in time for proper testing are implemented, but close monitoring is key because we have no time to lose.
"Soon it will be time to look forward and plan for the test events and finish operational details for the competition."