Pep Guardiola: Bayern coach says Arsenal 'impossible' to dominate
Last updated on .From the section Football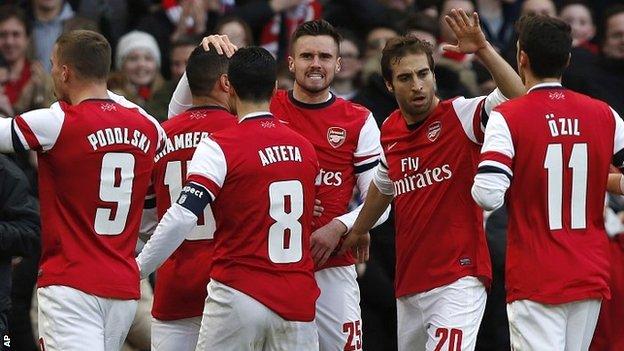 Bayern Munich coach Pep Guardiola believes it is "impossible" to dominate matches against Arsenal.
Guardiola did not win on either of two previous visits to the Emirates, where he brings his Bayern side on Wednesday.
"I learnt that you can't dominate 90 minutes against Arsenal. It's impossible," Guardiola said.
"You can play good, and dominate until half-time, 30 minutes, 75 minutes, but a complete 90 minutes - it's impossible. Always you have a problem."
As Barcelona coach, Guardiola presided over a 2-2 draw in north London in 2010, while the following year his team were beaten 2-1 after late goals from Robin van Persie and Andrey Arshavin, although the Catalans went on to win both ties on aggregate.
Under his predecessor, Jupp Heynckes, champions Bayern beat the Gunners 3-1 at the same last-16 stage last season and went through on the away goals rule despite a 2-0 home defeat in the second leg.
Arsene Wenger's Londoners have not won a major trophy since 2005 but Guardiola insisted: "Arsenal compete with huge, huge teams and, for me, remain a good team, a good club.
"We're going to fight against one of the best teams in Europe. It's a good test to know what is our level in Europe this year."
In April 2012, Guardiola announced he would be taking a break from football but he returned to take over at Bayern in the close season following their treble-winning campaign of 2012-13.
The 43-year-old Spaniard knows expectations are high, but says he is not yet considering the prospect of Bayern becoming the first team since AC Milan in 1990 to retain Europe's premier club competition.
He added: "My target is play every week better than the week before. I know when we don't win everything it will be a little bit disappointing, but I know how difficult it is to win.
"The title is so difficult. It's not happened since the 90s. I'm not worried about that. I'm not concerned about that.
"We're going to look forward to always getting better."