Man City v Barcelona: Manuel Pellegrini faces Uefa action

By Phil McNulty
Chief football writer
Last updated on .From the section Champions League1593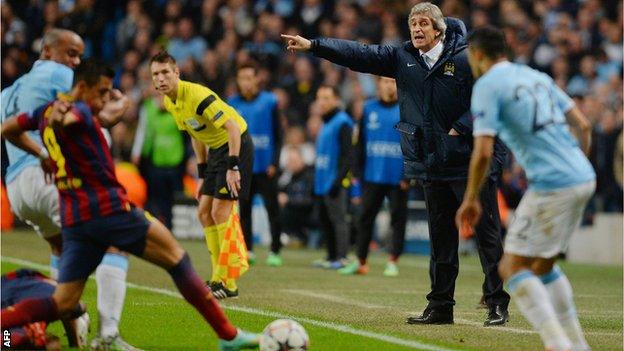 Manchester City manager Manuel Pellegrini's grievances stretched as far as Sweden and the San Siro in his ill-advised attack on the integrity of referee Jonas Eriksson after defeat by Barcelona.
In reality, while he ponders the punishment Uefa will surely inflict upon him, Pellegrini should look much closer to home for reasons why City's Champions League ambitions are surely over for another season.
The normally taciturn Chilean, whose deadpan delivery, stone face and straight bat answers have become his trademark this season, made up for lost time with a comprehensive verbal destruction of Eriksson's performance in City's 2-0 loss - while insulting Sweden into the bargain.
Pellegrini had legitimate arguments about Lionel Messi's penalty that broke the deadlock in the 54th minute of this last 16 first-leg tie. Jesus Navas did appear to be fouled by Sergio Busquets in the build-up and City will argue long and hard that initial contact between Martin Demichelis and Messi took place outside the area.
Experts in the rulebook will pick over whether the foul continued into the area but the offence was unquestionably deserving of the red card that came Demichelis's way and left City in reduced circumstances, and numbers, at a crucial phase.
What was not deserved, and what is unlikely to go unchecked, was Pellegrini's subsequent scattergun attack on Eriksson (and indeed Sweden as a footballing nation) that hinted at desperation as well as frustration from a man most of us thought was above such dark arts.
And undermining it all was an error by Pellegrini himself in selecting Demichelis, a defender no longer suited to the demands of this level, a selection that exposed a failure in City's transfer strategy, a failure to buy a world-class central defender to partner the outstanding Vincent Kompany.
Pellegrini and City's executive staff added glitter in the shape of Jesus Navas, Alvaro Negredo, Stevan Jovetic and Fernandinho - but with the hugely promising Matija Nastasic suffering a touch of Second Season Syndrome and Joleon Lescott seemingly cut from favour, the summer signing of Demichelis carried the appearance of a sticking plaster, and not a particularly effective one.
For all the arguments about not liking two central defenders favouring the same foot, surely the dependable Lescott presented a better bet than Demichelis, who admittedly did well before the foul but was found wanting in one moment - which is all it took in the shape of Andres Iniesta's perfect pass and Messi's darting run.
There was much to admire about City's performance but not in Pellegrini's sour after-match barbs at Eriksson.
Make no mistake, if Jose Mourinho had cast such aspersions on an official we would be heading straight into "enemy of football" territory, a charge Uefa levelled at Chelsea's manager following criticism of Swedish referee Anders Frisk after a Champions League game against Barcelona in 2005.
The fact that it was Pellegrini made it more surprising - but no more palatable.
He opened by announcing Eriksson was "not impartial to both teams", a statement alone guaranteed to have Uefa's book flying in his direction.
To then claim a referee from a country such as Sweden (apparently too small and unimportant to provide an official for such a key game) should not have taken charge was bizarre and bad enough even before Pellegrini suggested Eriksson was making amends for not giving Barcelona a penalty in the 2012 quarter-final against AC Milan in the San Siro.
If Eriksson made mistakes, and he did, to dress them up as some sort of payback to Barcelona for previous injustices is to enter very dangerous ground for any losing manager.
This was a side of Pellegrini we had not seen before. Proof, perhaps, the pressures at this level gets to them all eventually. There is always a tipping point and this was Pellegrini's.
"The Engineer", measured and cerebral, was meant to be the anti-Mourinho. Not on this night. Perhaps it was because he knew the damage, especially that inflicted by Dani Alves's last-minute second goal, was done.
Perhaps it was a smokescreen to cover up such a disappointing defeat - unlikely.
Frustration was at the root of it all. Frustration, maybe, that despite getting so much right Pellegrini got one crucial decision wrong. Demichelis is a favoured son of Pellegrini and has had a fine career but he always gives strikers a chance, and those in the class of Messi only need one.
Pellegrini was correct to err on the side of caution in his team selection, using Negredo as a single striker rather than use two and open up City to the threat of being outnumbered in midfield, as they were in defeat to Bayern Munich in the group stage.
And the utilisation of Aleksandar Kolarov in front of Gael Clichy on the left flank was smart as a shield against the threat of Dani Alves - but Demichelis was the weak link in the chain and this is where City's Champions League hopes were broken.
It makes City's pursuit of Porto's Eliaquim Mangala, rated at £35m, all the more understandable but this is a deal that must wait until the summer.
City were also robbed of the world-class threat of Sergio Aguero and his return in time for the second leg at the Nou Camp will surely be in vain.
Pellegrini's side showed commendable spirit and their Champions League graph has the right trajectory. It was always going to be a gradual process to make their presence felt in this tournament and this year has been a vast improvement on last season's abject campaign.
There is still a gap to bridge, however, and despite this not quite being the Barcelona vintage of three years ago there is still just too much street-wisdom, too much experience, and too much Messi for City to unseat them yet.
The miracle at the Nou Camp may yet be delivered but all logic points towards City's tilt at a quadruple being reduced to a treble after the second leg.
City's players can be satisfied that they did not let themselves down and their magnificent support did themselves credit. The only black mark is that, on this occasion at least, the same did not apply to a normally dignified manager.