Jonas Eriksson: Fifa chief backs ref after Pellegrini criticism
Last updated on .From the section Football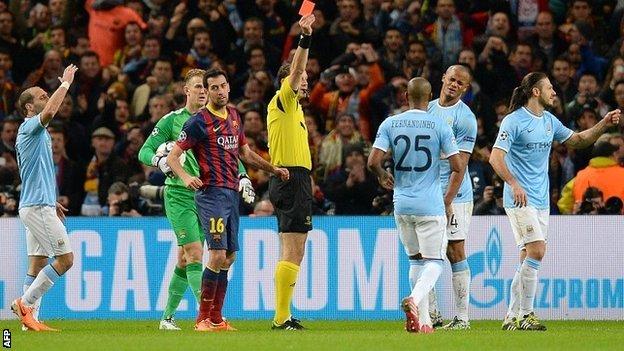 Fifa's referees chief has defended official Jonas Eriksson after he was accused by Manchester City boss Manuel Pellegrini of favouring Barcelona.
The Chilean also said Eriksson lacked experience because he came from Sweden.
But Fifa vice-president Jim Boyce said: "It is absolute nonsense to say a referee should not be chosen because he comes from a smaller country."
Eriksson, 39, has been selected by Fifa for the World Cup finals in Brazil this summer.
But Chilean boss Pellegrini claimed Eriksson was "on Barcelona's side from beginning to end", and trying to make up for a previous mistake he made against the Catalan side.
In 2012, Eriksson turned down a strong penalty shout for Barcelona in a Champions League quarter-final at AC Milan. The first-leg finished 0-0 but Barcelona went on to win the second leg 3-1.
Pellegrini could be fined by Uefa following the accusations.
Boyce, chairman of Fifa's referees committee, said: "If the referee has proved himself at the top level it should not matter what country they come from.
"All the referees who have been chosen for the World Cup have been assessed by experienced officials who have been involved at Fifa and Uefa level and marked on their performances in the World Cup and confederation competitions at a high level."
Boyce added: "I read the remarks that were made by the Manchester City manager. I saw the game and my own personal opinion is that I thought the referee had a good game. He is a very experienced referee who has been chosen for the World Cup because of excellent reports of his performances in Europe."
City defender Demichelis brought down Lionel Messi for Barcelona's second-half penalty before being dismissed.
Dani Alves scored late on to give the La Liga side a commanding lead ahead of the return leg at the Nou Camp on 12 March.