Euro 2016 qualifying draw: Gibraltar ready to prove their worth
Last updated on .From the section European Football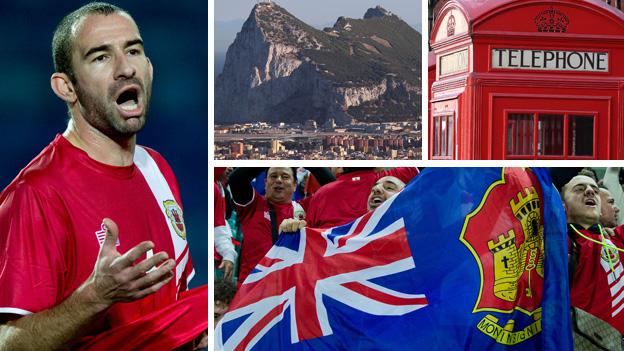 On the eve of Gibraltar's biggest game in their history, several players were in an Algarve shopping centre buying football boots because they had never played on grass before.
Despite that slight oversight, the British Overseas Territory marked their historic recognition as the newest member of Uefa by holding Slovakia to a goalless draw in Portugal last November.
For a territory that boasts a population smaller than Accrington and had only previously played the likes of Orkney and Tibet, the result was a significant one.
This Sunday marks another important milestone as they enter the draw for Euro 2016.
While they will be kept separate from Spain because of political reasons, there is every chance they could be drawn against Germany, Portugal or even England.
"We are getting dropped in the middle of the ocean with a massive tidal wave coming our way," Gibraltar manager Allen Bula told BBC Sport.
"What we have to do now is work even harder to swim towards the tidal wave and not away from it."
The lack of football boots suitable for grass was ultimately a minor oversight.
Gibraltar's home ground, the Victoria Stadium which stands in the shadow of the iconic Rock of Gibraltar, has an artificial playing surface and is not yet suitable for hosting competitive European fixtures.
The game against Slovakia was held at the Estadio Algarve as a practice run for the Euro 2016 qualifiers, with the 30,000 capacity stadium to be their 'home away from home'.
While their own stadium may not be up to scratch, everything else about the Gibraltar national team is geared up to being able to compete with the best.
Bula, a 49-year-old Gibraltar born-and-bred coach, has assembled a professional backroom staff which features the usual mix of coaches scouts and physios, but also video analysts, dieticians, chiropractors and masseurs.
"When I took this job I wanted to ensure we would be ready to compete the moment we were accepted in Uefa, and not having to play catch up," added Bula, who became national team boss in 2010.

"I have a very good technical team but there is always room for improvement. I have been talking to Danny Higginbotham, who used to play for Stoke in the Premier League, and although he is retiring, we have spoken about him coming onto the technical team and working with the defenders and getting them ready for the big stage. His experience would be invaluable."
Higginbotham, a former Manchester United trainee who was most recently playing for non-league Altrincham, officially hung up his boots towards the end of last year, shortly after he had made his international debut for Gibraltar.
The 34-year-old was eligible to represent Gibraltar through his maternal grandmother and had been recruited by Bula through Twitter.
Given his late arrival on the international scene, Higginbotham fully expected his motives to play for Gibraltar to be questioned.
"When I first went there I had debates with people over Twitter who were questioning why I was playing international football at 34. I explained that I was not there to make the numbers up but the only way you can truly prove yourself is on the pitch," said Higginbotham.
That is exactly what he did as he produced a man-of-the-match display against Slovakia, a game in which Barnsley defender Scott Wiseman and Farsley forward Adam Priestley also made their international debuts.
All three were praised for their performances, but the question of eligibility continues to be a thorny issue in Gibraltar.
Up until last year, the national team had a strict policy of only recruiting players who were born on the limestone outcrop, near the southern tip of the Iberian peninsula.
But acceptance into Uefa last May meant the Gibraltar Football Association brought their eligibility regulations in line with rest of Europe, which enables players to represent the country where their parents or grandparents were born.
Six British-based players have been called up by Bula for friendlies against Faroe Islands and Estonia in March. Those include Higginbotham, who will play in the two games before retiring completely, Southampton's 18-year-old goalkeeper Will Britt, Wycombe striker Reece Styche, 24, and 33-year-old defender David Artell, who plays for non league Wrexham.
The call-ups led to Bula receiving some criticism on Twitter, ultimately leading to him deleting his account in order to focus solely on managing the national team.
"You are never going to be please everyone, but for Gibraltar to progress we need to recruit the best players possible," added Bula.
"It is not uncommon in Europe. Spain, for example, have thousands of players to pick from and they recently called up Diego Costa, a Brazilian.
"I have maybe a pool of 30 players. People have to realise if the big ones can do it, the little ones should be able to do it.
"Not every small football nation is able to call up Premier League players like we are, so we are gifted in that way."
The pressure on Bula from both within and without is immense.

There will be some supporters of Gibraltar keen to see the recruitment of British-based players fail, while every game could potentially be Bula's last if they are on the receiving end of a hefty defeat.
"The England manager is under pressure to qualify for major tournaments, but every game is a final for Gibraltar," said Bula.
"We are always going to be in the limelight because we are expected to lose.
"Then I have the pressure at home to prove the policy I am trying to adopt is the right one.
"But it comes with the job and I have just got to stick to what my beliefs are with the aim of doing the best for Gibraltar."
At 54, one place below Andorra, Gibraltar go into Sunday's draw as the lowest-ranked team in Europe. Until they are officially recognised by Fifa, they can never rise higher than that position.
Given it took over a decade for them to be recognised by Uefa, it is position they could occupy for some time.
For now, all eyes are on Sunday's draw.
Pubs in Gibraltar's main square, Casemates, are expected to be packed with fans eagerly anticipating who their national team will face when qualifying gets under way in September.
Pinned to the wall in Bula's office is a list of the five teams he feels would make up the ideal draw. Those are Czech Republic, Austria, Latvia, Northern Ireland and England.
"That would be my dream," said Bula.
"We received lots of support from England fans when we drew with Slovakia and it would be amazing for the people of Gibraltar to see our team one day walk out at Wembley.
"I have been analysing England for many years now and like any other team they have a few weaknesses.
"So who knows, we could spring a few surprises."