Arsenal red card 'killed the game', says boss Arsene Wenger
Last updated on .From the section Football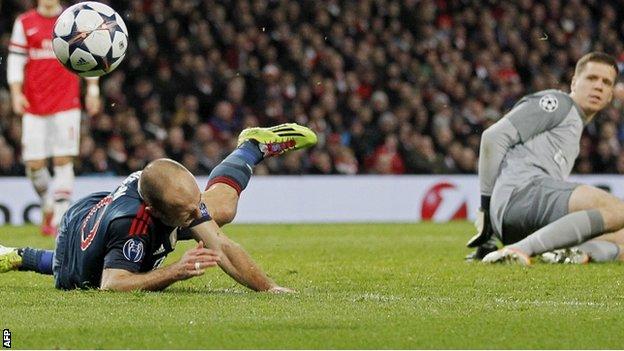 Arsenal boss Arsene Wenger believes the referee "killed the game" after he sent off goalkeeper Wojciech Szczesny during the first leg of their last-16 Champions League loss to Bayern Munich.
"The referee made a decision that killed the game," Wenger said.
"Our keeper went for the ball, he touched Robben, who made more of it."
Szczesny, 23, looked to have clipped Robben's leg after the Netherlands winger beat the Pole to Toni Kroos's lofted pass. As he left the pitch, the goalkeeper appeared to make a gesture to signal his disgust at the decision.
Bayern's David Alaba hit the post from the resulting penalty but the German side were able to take complete control as they took advantage of the extra man, eventually winning the match through Kroos and Thomas Muller goals.
"Robben has enough experience to know to make more of it," said Wenger. "Overall I thought Bayern made a lot of every single contact. We are not used to that in England.
"There were fouls given today that usually are not given in the Premier League, but it's different rules and we have to accept it.
"The game was, until then, top quality, and in the second half it was boring for neutral people. It was one-way traffic."
Arsenal started the tie in dominant fashion but squandered a golden opportunity to take the early lead through Mesut Ozil's missed penalty.
The German struck weakly at Bayern goalkeeper Manuel Neuer after taking a short run-up.
"I think it affected Mesut. He was still shaking his head five or 10 minutes after that," said Wenger.
"It had a huge impact on his performance. Confidence is your petrol in the team - it gives you the desire to play."
Bayern have lost just once in their last 36 matches in all competitions - to Manchester City in the Champions League group stages - and are 16 points clear at the top of the Bundesliga.
Manager Pep Guardiola agreed that Ozil's penalty miss and Szczesny's sending-off were turning points in Wednesday's match.
The Spanish boss said: "Arsenal were much, much better than us in the first 10-15 minutes, but after the mistake from Ozil the game was equal. From that moment we played better and after the red card for the goalkeeper the game was for us.
"We played with patience, patience, patience and in the end we found the (second) goal.
"We are so happy because the last two times I came here with Barcelona we played amazing and didn't win, so I know how difficult it is to win here. "