Mesut Ozil needs a break to ease his Arsenal misery

By Phil McNulty
Chief football writer
Last updated on .From the section Football1640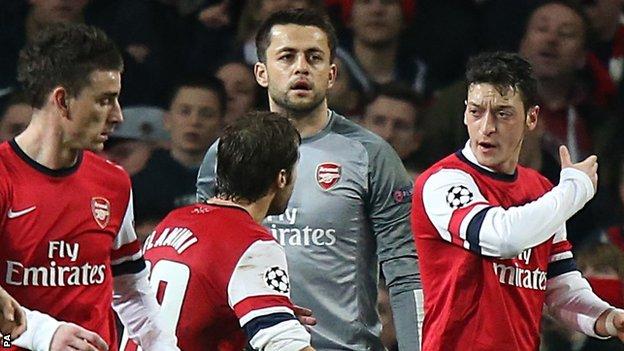 When Arsene Wenger finally answered demands to stop treating Arsenal's money like it was his own and spent £42.4m to buy Mesut Ozil from Real Madrid, it was with Champions League nights against sides such as Bayern Munich in mind.
Arsenal's manager set aside his reputation for parsimony to bring in a 25-year-old Germany international with a world-class reputation.
Ozil's signing last September was widely greeted as a watershed, the moment Wenger announced Arsenal's return to the big spenders and major league players. Few argued with his purchase.
On Wednesday night, those days looked an age away. Against Bundesliga champions Bayern, Ozil was presented with a chance to answer growing criticisms of his recent form. Instead, the midfielder had a nightmare.
Bayern left Emirates Stadium with a 2-0 victory in their last-16 first-leg clash. The result surely condemns Arsenal to a Champions League exit at the hands of a side who knocked them out at the same stage last season. And as it all played out, last summer's golden boy cut a desolate figure.
How different it could have been for Ozil - and, more pertinently, Arsenal - had he taken a chance in the opening minutes when he drew a foul from Bayern's Jerome Boateng to earn a penalty.
The midfielder had failed with a spot-kick during a group-stage victory over Marseille in November. In the absence of more regular penalty takers Mikel Arteta and Olivier Giroud on Wednesday, Ozil ignored the lessons of that miss.
Instead, he once more sidled hesitantly up to the spot-kick before delivering a feeble effort that was saved by his old school companion Manuel Neuer.
If it was a bitter blow for Arsenal, it visibly drew the air out of Ozil. He shrank before the eyes of Emirates Stadium, retreating from the action to an unacceptable extent, confidence drained by his failure.
And for the first time, on a night when Arsenal's supporters delivered magnificent backing for a team that produced such a commendable effort in defeat, Ozil was singled out for criticism, especially when he failed to react to a quickly-taken Bayern corner.
He was even rebuked by team-mate Mathieu Flamini as he loitered on the margins of the game while his Arsenal colleagues battled gamely to cope with Bayern's torture by possession. Their situation was exacerbated as they were reduced to 10 men when keeper Wojciech Szczesny was sent off for fouling Arjen Robben, leading to another penalty, missed this time by Bayern's David Alaba.
Wenger admitted Ozil suffered after missing the penalty, revealing he spotted him still shaking his head 10 minutes later. That begged the question: why was the lively Santi Cazorla sacrificed instead in the reshuffle caused by Szczesny's red card?
So the questions grow about the expensive buy from Madrid - as does the need to put his situation into perspective.
In the inevitable social media inquest, Ozil was accused of lacking effort and lacking interest. These are two very dangerous allegations to make about a proud professional footballer. A player of his quality deserves more respect than that.
Those questioning his effort may be interested to know he ran 11.69 kilometres, but the real concern was how he retreated from where the real action was. He was bought to make the defining contributions. He has not made enough.
Ozil's languid body language does not help his cause and there are undoubted areas for improvement - remember how he was on the rough end of countryman Per Mertesacker's tongue for failing to acknowledge Arsenal's fans at the end of the 6-3 loss at Manchester City in December?
On Wednesday, as in the 5-1 Premier League defeat at Liverpool on 8 February, Ozil looked lightweight, off the pace and reluctant to join the battle when it was at its height. He has looked out of place.
And yet it is premature to suggest Wenger, having finally been persuaded to spend the cash, may have lavished it on a player who, although gifted, currently looks unsuited to the rigours of the Premier League.
Ozil has clearly found it a tough physical adjustment and yet his graceful style was warmly welcomed. The odds are on this being a tough period of adjustment. Even one of his great predecessors for Germany, Michael Ballack, watched him closely and said: "He looks a bit lost in this team. It seems like he does not have the acceptance of his team."
After watching Ozil's form fall off a cliff in the face of Bayern's relentless passing, surely it is time for Wenger to pull him out of the firing line and reserve him for efforts later in the season.
His night was in the starkest contrast to that of an excellent game's finest performer, his international team-mate Toni Kroos.
Manchester United manager David Moyes was at Emirates Stadium to watch the Bayern midfielder, who is in a contract stalemate with his club and is valued at around £50m.
Kroos has been linked with a move to Old Trafford - but Wednesday night may have been as close as Moyes gets to the 24-year-old. That is because the idea of such a talent not gracing the Champions League - a competition United look increasingly unlikely to trouble next season - is almost an insult to his talent.
And the notion that a club as streetwise and ambitious as Bayern do not realise what a mistake it would to allow him to escape also stretches credibility.
Why would Kroos even contemplate leaving Bayern for United if they could only offer him (perhaps at best) the Europa League, and are currently cast adrift of the Bundesliga champions when it comes to quality?
Kroos was peerless against Arsenal. His opening contribution was a shot that was destined for the top corner until Szczesny saved brilliantly and he showed wonderful technique to sweep the opening goal high past his deputy Lukasz Fabianski.
He attempted 127 passes in the Arsenal half and was successful with 96.1% of them. Kroos chalked up 147 passes in total, the same number completed by all 12 of Arsenal's outfield players - including substitutes - put together. Kroos is the player of Pep Guardiola's dreams on that basis alone, even before you come to his quality.
It was all too much for Arsenal, as substitute Thomas Muller added the second that surely puts this tie out of their reach.
Arsenal's supporters recognised their team's efforts. In a thrilling opening half-hour, they had Bayern on the back foot - but there was a very obvious clue to one of their problems.
Wenger plumped for rookie 21-year-old Yaya Sanogo as his attacker ahead of Olivier Giroud and Lukas Podolski. It almost amounted to an experiment in a game of such magnitude and while there is clearly raw material to work with, this should not be the time or place for such things at a club with Arsenal's ambitions.
It exposed a failure to add to striking resources, a problem made worse by Theo Walcott's serious injury.
For all that, this was also a night when Arsenal showed guts and fight, commodities they have been accused of lacking in the past.
It will surely not be enough to save them from Champions League elimination - but the Premier League title and the FA Cup remain as targets.
Ozil still has the ability to make his mark on those competitions. But after this nightmare, it may be time to release him from his misery for a while.