Rangers: Graham Wallace seeks to allay administration fears
Last updated on .From the section Football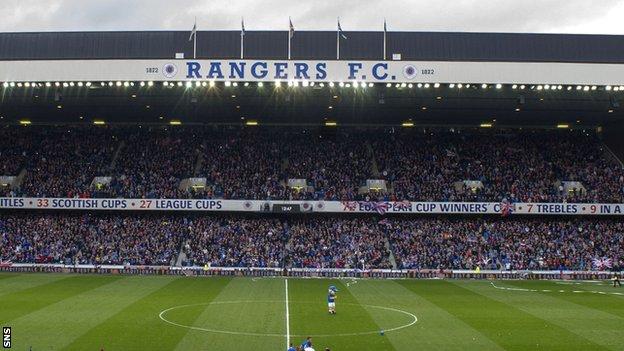 Rangers are not facing the threat of a second administration, according to the club's chief executive.
On the day it emerged the club aimed to borrow £1.5m of working capital, Graham Wallace sought to reassure supporters.
"What I can categorically say is that there is no threat of a second administration," he told Rangers TV.
Drew Roberton, the general secretary of the Rangers Supporters' Association, said the club's request for a loan did little to alleviate fans' fears.
Rangers are holding discussions with two major shareholders for a £1.5m loan to aid the running of the Ibrox club.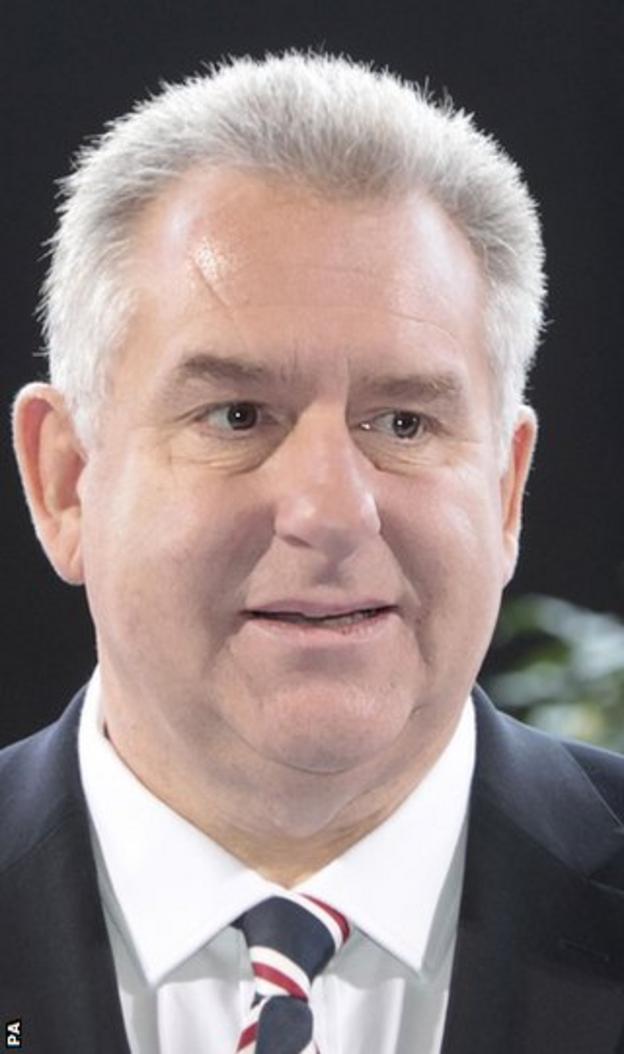 In a Stock Exchange statement, the club said terms have yet to be finalised. BBC Scotland has learned discussions are taking place with Laxey Partners and the Easdale brothers James and Sandy.
The club reported a £14m operating loss for the 13 months to June after £22m was raised in a share issue in 2012.
The latter two hold positions on the boards of The Rangers Football Club Limited and its parent company The Rangers International Football Club PLC.
At December's Annual General Meeting, Wallace said the club faced "a significant number of challenges" but had a "platform of stability" to make progress.
In January, manager Ally McCoist signed off on a wage cut of about 50%, which he had agreed to in October, but players rejected a proposal of pay cuts of 15% until summer 2015.
The Scottish League One outfit received calls from concerned supporters and shareholders following online discussions regarding an impending insolvency event.
The concerns prompted a response from Wallace refuting the claims and insisting the club was continuing to rebuild.
A Rangers statement read: "The club wishes to make clear that these allegations are totally inaccurate and that the chief executive and board of directors are fully focused on the restructuring and rebuilding of Rangers Football Club as previously announced.
"The club has decided to make this statement as unchallenged, ill-informed and inaccurate comments are damaging to the reputation of Rangers Football Club."
Wallace said the club were halfway through their 120-day review of the business, and he stressed administration was not a threat.
""But let me put that to bed once and for all. We are absolutely focused on the long-term sustainability and success of Rangers Football Club and supporters should not be concerned about some of the ill-informed comment they are reading in the media."
Roberton said he was not surprised that the club was seeking a £1.5m loan "because the previous financial director forecast that the club would reach a low point in April this year, with only £1m in the bank".
"Perhaps his forecast was a touch optimistic. It's certainly concerning," Roberton added.
"Mr Wallace has on many occasion said that under no circumstances was administration an option.
"Unfortunately, this recent announcement doesn't do much to alleviate fans' fears that it's still a possibility.
"Given what's happened to the club in the last two years, it's understandable for anyone to have that fear.
"Graham Wallace has put his reputation on the line by saying it's not going to happen. I don't know anyone who's in possession of hard facts and figures to dispute that."
Financial expert Maureen Leslie told BBC Scotland that an attempt to raise working capital indicates the club requires assistance with general operations.
Leslie said Rangers supporters should be asking questions about where the loan will be spent and the club's board should be more open with its supporters and investors over its long-term financial plans.