Roy Carroll: Olympiakos ready for 'nervous' Manchester United
Last updated on .From the section Football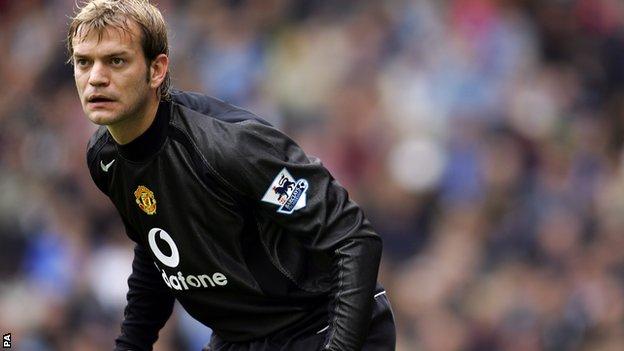 "They look nervous. Every time you watch them this season you just feel that the opposition will score. It's weird - you don't associate that with Manchester United."
It has been nine years since goalkeeper Roy Carroll ended his Manchester United career and now, after a decade that has seen him move from London to Glasgow and Denmark to Greece, the 36-year-old is planning their downfall in Athens on Tuesday night.
The Northern Ireland international may have lost his place as the Greek champions' number one this season but in recent weeks he has become the focal point of the dressing room as team-mates and staff alike pick his brains about United's dramatic slump in form.
United have lost 10 times this season in all competitions, and Carroll is convinced that his current side can add to that tally.
"Manchester United are having a bad time of it at the moment and our players have belief in themselves. We believe we can do well in these two games, and we feel we can get at them," Carroll told BBC Sport.
"We are hoping to keep a clean sheet at home in the first leg and if we can do that we back ourselves to score at Old Trafford. We have been working on United's defensive problems in recent days; that's what we have to do.
"You have seen all season that they have been chopping and changing at the back. As a goalkeeper I know the effect of not having a settled back four and we have seen that from United this year. It's a different back four every game."
United boss David Moyes has picked a different starting XI in every one of his 40 matches since taking over last summer.
It is nearly a decade since Carroll's last appearance in a Manchester United shirt, his final action being a failed attempt to keep out Patrick Vieira's match-winning penalty for Arsenal in the 2005 FA Cup final.

But the status of Moyes's side in world football is such that even now, 2,000 miles away in Athens, he is treated like a hero by flocks of United supporters who have never even been to Manchester.
"I've been away from United for nearly 10 years now but anyone who has played for the club is loved in Greece," Carroll said.
"United are huge in Greece. You have no idea how big they are until you come out here. I joined a small club called OFI in Crete in 2011 and, in my first week, 25 Greek United fans came to see me at the club and presented me with a little trophy, a plaque from the Manchester United fans in Athens. I couldn't believe that they would do that.
"I've been invited down to a supporters' club in Athens a few times to watch games on a Sunday and they love the English game. This one bar I go to is a fantastic set-up, they have a different Premier League game on in each room.
"The whole country has been buzzing since we were drawn against Manchester United. Olympiakos are 20 points clear at the top of the league so this match has been the focus. We are ready for the test."
While Carroll and co are unbeaten in the league, cruising to their fourth successive title, United have endured a difficult campaign under Moyes.
The former Everton manager has overseen landmark losses against Newcastle, Everton, Stoke, Swansea and West Brom since replacing Sir Alex Ferguson, including a dismal run of six defeats in eight games between New Year's Day and 1 February.
"I have been surprised by their form this season," said Carroll.
"It's nearly the same squad which won the league last year but a new manager was always going to be a huge change, no matter who they appointed.
"Results haven't been going well, or the way you would expect, and it is tough for them.
"A few of our squad were watching the Fulham game on TV recently and when United scored twice to lead 2-1 you expected them to see that out.
"It was a big surprise that Fulham equalised late on. Last year, United win that game."

Carroll, who met former team-mate and current United coach Phil Neville on a scouting trip to Athens recently, expects Moyes to come good at Old Trafford in the long run but admits that their indifferent form has fuelled expectations in Greece for an Olympiakos result this week.
The sides have met on four occasions before - most recently in 2002 - with the Premier League side winning on each occasion. The Athens media and the Olympiakos fans believe it could be fifth time lucky.
"The sports media is crazy in Greece," says Carroll. "There are six or seven newspapers every day just filled with sport so ever since we were drawn against United there have been pages and pages written about how they are getting on this season and what Olympiakos's chances are.
"Every day there are rumours, speculation. It's gone mad with the fact that Manchester United are coming to town. They are loving it, it is a massive month for our club.
"Over here your life is all in the press but if you keep your head down and work hard everybody loves you. You can become a hero quickly.
"There are some lads in our dressing room who could do that this week. The media have been on our side for reaching the last 16 and, if we can get a good result in the first leg, then the build-up to coming to Manchester will be even more intense. We want to go further."
Carroll concedes that the sale of striker Konstantinos Mitroglou to Fulham on transfer deadline day was a blow, while former Barcelona and Real Madrid forward Javier Saviola misses out through injury.
Michael Olaitan, a 21-year-old Nigerian, has blossomed in Mitroglou's absence, scoring seven times in 10 games in 2014, and is expected to start in attack
The former United goalkeeper has also backed the club's intense home support to make a crucial impact on Tuesday.
"The fans here are mad, especially on Champions League nights," he said.
"It's fantastic. The stadium holds 32,000 but I've played on nights where it sounds like 60-70,000 fans here. The Manchester United players will have played in Turkey, places like that, but they are in for a big surprise.
"There's a whole generation of fans who have been waiting to see United in action up close and they will get right behind us."
United should expect fireworks, passion and an in-form Olympiakos. Above all, they should expect a stern test.