FA probes Torquay-Chesterfield 'biting' incident
Last updated on .From the section Football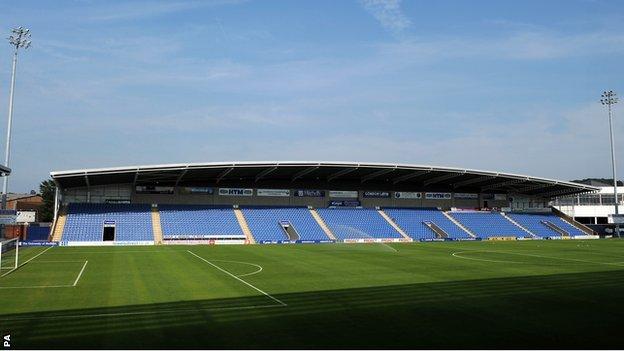 The Football Association has confirmed it is investigating alleged incidents in Torquay's defeat by Chesterfield on Saturday, amid claims Spireites players were bitten during the match.
"We've not heard anything about it at all - this is the first I've heard," Gulls boss Chris Hargreaves told BBC Radio Devon on Thursday.
Chesterfield say they will leave the issue for the FA to resolve.
But the club have not made a formal complaint to English football's governing body.
"I'd distance myself from things like this, with the best will in the world," Chesterfield boss Paul Cook told BBC Radio Sheffield on Friday.
"The people who run the game run it very well.
"If someone's bitten someone, there's obviously a penalty to pay. That's out of our hands now.
"Torquay can deal with it internally if they like. It's not good for the game but we prefer to concentrate on all the good things coming out of the club this week.
"One thing you'd always highlight is that there is always two sides to every story, so I'm not going to be drawn into it either way. I'm going to let the powers that be at the FA or Torquay deal with it.
"I haven't spoken to Torquay about it, I haven't spoken to anyone at all about it. I'll just concentrate on my job, which is to manage my players. When it happens to you you just have to manage it properly, do the right thing by your club and then everyone can move on."
No charges have yet been brought against any player.