Cardiff City: Record low points total could be enough - Solskjaer
Last updated on .From the section Football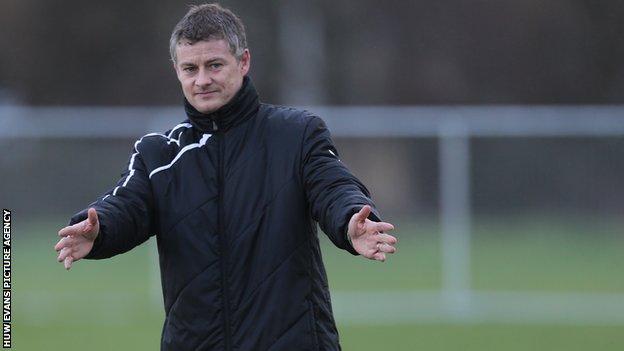 Cardiff boss Ole Gunnar Solskjaer says it may take fewer points than ever before to secure a place in the Premier League.
Nine years ago West Brom stayed up with just 34 points, but 31 points would have been good enough in 2009/10 to finish above 18th placed Burnley.
"It could be a record low because of how tight it is," Solskjaer.
"Or it could suddenly change because maybe one or two or three teams may drift at the bottom if they don't get results.
"Obviously we need to make sure that we are in contention.
"We need to get points now so we are in the running."
Cardiff have won and drawn their last two matches at home but have yet to record back to back victories in the Premier League.
Yet a win on Saturday for the Bluebirds could see them move out of the relegation zone and bring them to within just two points of Hull.
Steve Bruce's side have got just four points from a possible 21 in 2014, but won their last away match in the Premier League against Sunderland.
Solskjaer says his players are aware of the importance of the match against the Tigers.
"Both of us need points to be in a healthier situation," said Solskjaer
"We are at home and this is one of the games we should be going for.
"So we are going to be on the front foot trying to attack them and make them defend."
The former Manchester United striker believes Cardiff's home form will be key if they are to maintain their Premier League status in their first season back in the top flight since 1962.
Among the Bluebirds' last five home games are matches against fellow strugglers Fulham, Crystal Palace and Stoke.
"We've always said this [at home] is where we are going to get the majority of our points," said Solskjaer.
"But we've got to get two or three result on the bounce."
Hull's boss, former Manchester United captain, Bruce, left Old Trafford the season before Solskjaer's first term under Sir Alex Ferguson.
Despite not playing together for the Red Devils Solskjaer says he has always "looked up" to Bruce and remembers the former England defender's words of advice to him about management.
"He said to me don't even think about it because it's very stressful," said Solskjaer.
"He's done very well and must be proud of what he's done.
"He's had ups and downs but you see him now and he seems more content.
"I think he looks like he's enjoying it."