James Hayter celebrates 10th anniversary of record hat-trick
Last updated on .From the section Football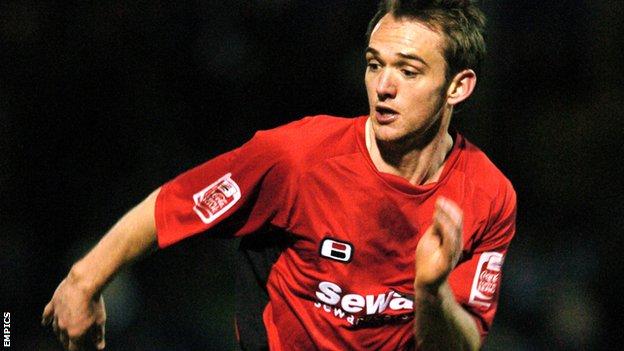 Ten years on from one of the most unforgettable matches of his career, James Hayter is not sure his parents have forgiven themselves.
Shortly before the then-AFC Bournemouth striker hit the Football League's fastest hat-trick, his mum and dad walked out of Dean Court.
With only a few minutes to go in the Cherries' Division Two (now League One) match against Wrexham on 24 February 2004, and their son still on the bench, Mr and Mrs Hayter left to catch an early ferry home to the Isle of Wight.
Moments later, with his side 3-0 up, their son came on as substitute - and in a remarkable 140 seconds made Football League history.
It broke the previous English record of Blackpool's Ephraim Dodds, which had stood for almost 61 years and capped a truly memorable week for Hayter, who had celebrated the birth of his son just days before.
Despite going on to play 359 games for Bournemouth and 162 for Doncaster Rovers before joining his current club Yeovil, Hayter still finds himself being asked about that remarkable evening.
"I was sub on the day because I'd missed the game on the Saturday for the birth, and I didn't get on until the 84th or 85th minute," the now 34-year-old Hayter recalled to BBC Somerset.
"I scored with my first touch and two-and-a-half minutes later I had a hat-trick - it was a bit surreal. I didn't realise quite how big it would be until after the game, and then the next day I had to come in and do loads of press and it all blew up."
Hayter was already certain of a place in Bournemouth history.
In October 2000, he equalled the club record for the number of goals scored in a league match with four against Bury.
He was to go on and score a total of 93 goals for the Cherries in 11 years with the south coast club - and is still banging them in for Yeovil, converting the penalty which gave the Glovers a potentially vital 1-0 win against his former club Doncaster on Saturday.
But his mother and father are still frustrated at missing that hat-trick against Wrexham.
"My parents, Mary and Richard, still shake their heads about it. They came to the game, but because I was sub and hadn't got on they left early, they thought they'd get an earlier ferry.
"I think I came on just after they left, and they were listening in the car to BBC Radio Solent as the goals went in. I spoke to them afterwards and they were pleased, but also very disappointed."
His parents have since watched the goals many times on video, but Hayter's son Harris - now 10 - has yet to see them.
"I'll get around to showing him one of these days, perhaps once I've stopped playing," he said.
Neil Moss, who as Bournemouth goalkeeper against Wrexham was watching in amazement from the other end of the field, still finds it hard to credit.
"The goals seemed to just fly in from all angles, we ended up winning six and it wasn't until after the game I realised 'Hayts' had scored a hat-trick - and how quick it had been.
"It was an unbelievable feat. The fact we're talking about it 10 years on shows how big it was, and it's great to look back and be able to say I was there when it happened."