Egypt may reinstate ban on fans after Super Cup clashes
Last updated on .From the section Football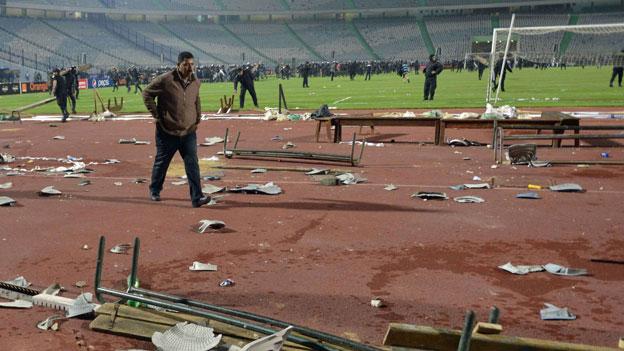 Egypt's interior ministry will review its decision to lift the ban on fans attending matches following clashes at Thursday's Super Cup between Al Ahly and CS Sfaxien in Cairo.
Trouble flared shortly after Ahly's 3-2 victory when some of the club's fans attacked security forces, leaving 25 police personnel injured.
"After the end of the match, section of the fans chanted anti-police slogans before hurling water bottles, seats and fireworks at the forces who were securing the game," the interior ministry said in a statement.
"On their way out, the fans have also torched a police vehicle and two civilian cars … 10 officers and 15 conscripts were injured as a result. The security forces managed to contain the situation and arrested a number of rioters."
About 30,000 Ahly supporters had flocked to Cairo Stadium to cheer on their side in a carnival atmosphere that turned sour at the end.
Egyptian authorities have recently lifted a crowd ban in African competitions but kept it intact in the domestic league, where all matches are being played behind closed doors.
The interior ministry said it may put on hold any plans to allow the fans back to the stands following Thursday's troubles.
"The ministry is currently reviewing its decision to lift the crowd ban," the statement added.
There is bad feeling between Ahly's hardcore fans, called Ultras, and the interior ministry. The fan group has accused the ministry of complicity in Egypt's worst football disaster, which left more than 70 Ahly supporters dead in Port Said in February 2012.
Intermittent clashes have since occurred between the Ultras and the security forces.