Swansea City: Garry Monk thriving in new role, says Leon Britton
Last updated on .From the section Football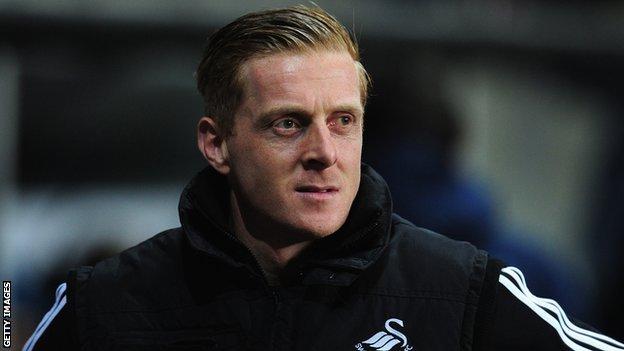 Midfielder Leon Britton says Garry Monk has adapted well to his new role as Swansea City head coach.
Former Swans captain Monk was placed in charge for the "foreseeable future" following Michael Laudrup's sacking.
Swansea have won two of Monk's five games in charge and held Italian powers Napoli to a goalless draw in the first leg of their Europa League last 32 tie.
"He stepped into it with no experience but he seems like he's been doing it all his life," Britton said.
Britton and Monk are two survivors from Swansea's days at the Vetch in the lowest tier of the English football league system.
Both played key roles in Swansea's rise to the Premier League and Monk has been given the job of ensuring they retain their place in English football's top-flight.
"It was obviously strange at first, when one day he's your team-mate the next day he's your manager," Britton said of Monk's transition from player to manager.
"But a couple of weeks into it, it just seems pretty natural to be honest.
"I'm delighted he's got this opportunity to try and do well at the football club.
"We know how much it means to him and all the players are behind him and give everything to try and make sure we do well."
Napoli boss Rafa Benitez believes Monk has a promising managerial career ahead of him after Swansea held the Italian giants to goalless draw in the Europa League.
Britton says Swansea can be proud of their performance against the side currently third in Serie A.
"It was important that we didn't concede a goal," Britton added.
"The away goal in a two-legged affair is a big thing and not to concede was a big thing.
"Going over there you've got something and if you score a goal they have to score two so we're pretty pleased with the result."
Before next Thursday's round of 32 second leg in Naples, Swansea lost a Premier League thriller 4-3 at Liverpool on Sunday, as Monk pitted himself against former manager Brendan Rodgers.