Hearts manager Gary Locke upbeat over club progress
Last updated on .From the section Hearts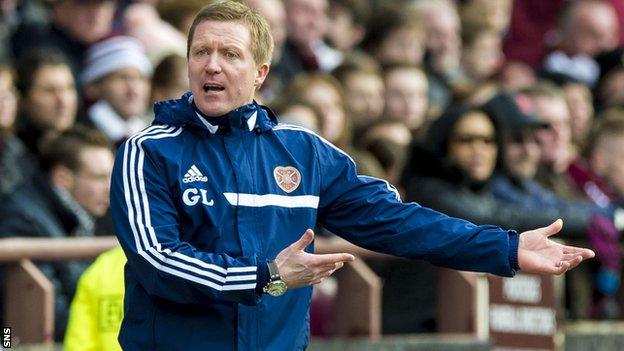 Hearts manager Gary Locke said his young squad demonstrated progress since last meeting Celtic, despite at Tynecastle.
Goals from Leigh Griffiths and Teemu Pukki gave Celtic the win, having comprehensively beaten Hearts 7-0 the last time the club's met in Edinburgh.
"I think we've got to look at the positives," said Locke.
"The last time Celtic played here it was no contest. You can see how far some of our young players have come."
After a goalless 45-minute opening period in the capital, it looked as though a goal for Celtic was an inevitability, but Hearts managed to hold out admirably for almost an hour before Griffiths netted his first strike for the league leaders.
Locke said the endurance of his side was a testament to the hard work being carried out behind the scenes and demonstrated that Hearts are capable of holding their own under pressure.
"For long spells we matched the best team in the country," said Locke.
"The first goal I would need to see again, but I'm told it was onside. It was a poor goal from our point of view - we got caught on the counter-attack.
"But the second goal, I thought there was a couple of fouls in the build-up to it in our favour, but unfortunately the referee didn't see them.
"We've told the young players to go and express themselves. In the middle of the season, they took a dip all at the same time.
"But you can see that having worked with them for five or six months, they're taking on board what we're trying to do at training.
"They're not making as many mistakes and they've grown from boys to men."
Defeat means the Edinburgh side are 18 points behind second-bottom St Mirren, and any hope of avoiding automatic relegation is slipping with every passing week.
However, Locke insists the club is heading in the right direction with its young squad and a plan in place from businesswoman Ann Budge to exit administration with preferred bidder the Foundation of Hearts.
"We've worked tirelessly with the young players from the start of the season, we've said all along it was going to be difficult," said Locke.
"The most important thing is that the club is here, and hopefully Ann Budge will be in place in the next couple of months.
"For me, the club has a very good future and the young lads are improving all the time.
"We have a good squad to look forward to the future."