Felix Magath: How new Fulham boss came through his first test
By Chris Bevan
BBC Sport at The Hawthorns
Last updated on .From the section Fulham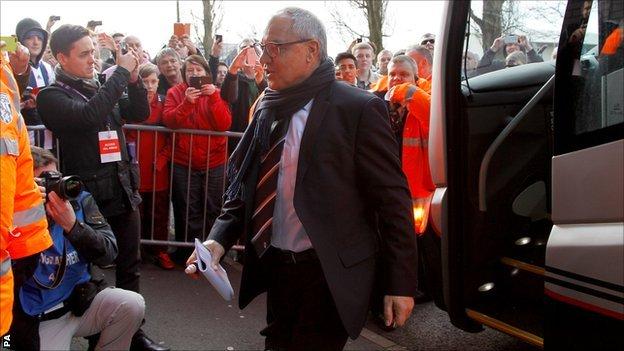 We were promised the Demon Headmaster, but new Fulham head coach Felix Magath spent most of Saturday acting more like a supply teacher trying to make a good impression at his new school.
It is true he yelled so hard at one point during the game that his chewing gum flew out of his mouth, but Magath's entrance into English football was generally much quieter than expected.
If this maverick coach was angry with his team for letting two points slip from their grasp, he certainly did not show it in public.
But perhaps the "dictator" was just being diplomatic, and Magath merely chooses when, where and how he does his shouting.
After all, he had made plenty of noise when he talked up this clash with one of his side's chief relegation rivals before kick-off, calling it "the biggest game in Fulham's history".
And he also showed he meant business as he marched off the team bus upon his arrival at The Hawthorns.
Maybe because time, or the lack of it, is so important to a man whose team were bottom of the table with 12 games of the season remaining when he took over, he was clearly in a hurry to get his day going.
First off the bus, at almost the instant that the doors opened, he acknowledged the cheers of a small group of Fulham fans who had waited patiently for his arrival but had no time for autographs or any niceties as he strode into the stadium, eventually followed by his players.
Without speaking a word, the message was clear: he may be Fulham's third manager of the season but this is his team now, and he is leading from the front.
But would there be a similar sort of statement when the game got going? Nobody knew for sure. We have read much of Magath's methods - but what of his tactics?
West Brom manager Pepe Mel had admitted before kick-off he did not know what to expect either. After all, Magath had only been in charge since Valentine's Day.
Yes, he had called extra training last weekend - of course he had. But what effect could any man - even Magath - have on the worst team, not to mention leakiest defence, in the top flight in just eight days in the job?
As it turns out, the effect was instant, but limited. Fulham were impressive in the first half and took the game to their hosts.
Backed up by Scott Parker and Steve Sidwell in the centre of midfield, Lewis Holtby, in a roaming role, and Ashkan Dejagah, on the right, saw lots of the ball, teased the Baggies defence and supplied plenty of crosses into the box.
Magath seldom rose from his seat but, when he did, it was Holtby, who played under him at Schalke between 2009 and 2013, who he sought out.
Again, the primary purpose seemed to be to communicate with his team. Holtby speaks German and English fluently, and was frequently used by his manager to pass on instructions to his team-mates.
The most telling time he did that was during the mass celebrations in the Fulham technical area following Dejagah's goal, when Magath all but ignored the scorer and went straight to Holtby, to talk more into his ear.
But was Magath also trying to get more out of that particular player?
He did not really clear it up when he spoke about the on-loan Tottenham star at the final whistle but, if former Liverpool striker Sean Dundee was right when he said Magath only picked on players that he cared about, then he must love Holtby - he hardly left him alone all game.
It was the 23-year-old's tenacity and skill on the ball that stood out when Fulham were in the ascendancy but, perhaps unsurprisingly, Magath picked out another aspect of his play to praise.
"Lewis was busy," Magath explained. "He was running a lot, running over the whole field."
On this evidence, there is a lot more to Holtby and to Fulham than just the ability to run. At The Hawthorns they created enough opportunities to be further ahead at half-time, and it is their attacking ability that gives them genuine hope of staying up.
But is also clear that Magath, a lover of hard work from his players, has much of that to do himself to turn Fulham's season around, especially at the back.
After half-time, their energy faded and they fell back into old habits. With Fulham defending deep and not particularly well, it was a surprise that it took until the 86th minute for the Baggies to equalise.
Magath was offered plenty of bait by the media in his post-match press conference but refused to blame either his keeper Maarten Stekelenburg for the error that led to the goal - "it can happen" was his reaction - or goal-line technology for the fact it was given. "It makes it easier to accept," he said.
Instead he kept smiling and chose to focus on the positives from his first game, boldly adding he was certain he would keep the Cottagers up despite having to revise his survival target of six wins from 12 games to six from 11.
Overall, it was not the reaction most people anticipated from a man with his fearsome reputation but, after the many tales that have followed him to these shores, it is possible that was the entire point.
Whether he will be so forgiving of any future mistakes remains to be seen. But then we are sure to learn a lot more about Magath over the next 11 weeks as Fulham's Premier League fate is decided.