Northern Ireland to face Greece in Euro 2016 qualifiers
Last updated on .From the section Football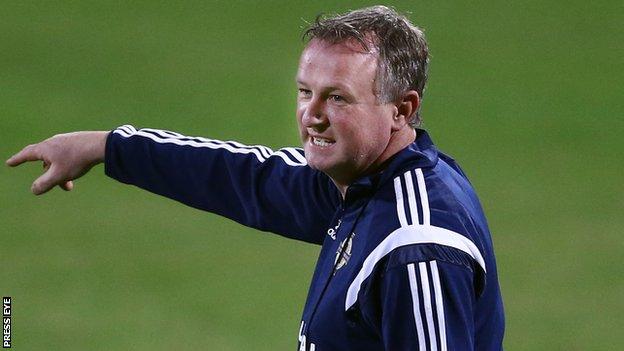 Northern Ireland will face Greece, Romania, Hungary, Finland and Faroe Islands in the Euro 2016 qualifiers.
Northern Ireland boss Michael O'Neill will probably be relieved to have avoided big guns such as Spain, Germany and the Netherlands.
O'Neill had suggested that he would be keen to face England but that did not materialise in Sunday's draw in Nice.
The Republic of Ireland will play Germany, Scotland, Poland, Georgia and international newcomers Gibraltar.
That looks to represent a tough group for Martin O'Neill's side with the Republic facing a Germany who defeated them away and home en route to qualifying for this year's World Cup finals.
Euro 2016 will be made up of 24 nations, an increase from 16 previously, but both Irish teams are still likely to face difficult routes to the finals.
The top two in each group will qualify automatically for the 2016 finals alongside the best third-placed finisher.
The remaining eight third-placed teams go into the play-offs in November 2015.
Greece were surprise European Championship winners in 2004 and are currently ranked 12th by Fifa after qualifying for this year's World Cup.
Romania and Hungary both failed to earn a spot in Brazil this summer but they are both ranked significantly higher than Northern Ireland as they currently occupy 33rd and 44th spots.
Finland also missed out on qualification but the 65th-ranked Finns are also 20 places ahead of Michael O'Neill's side.
The Faroes currently occupy a lowly 172nd but they did hold Northern Ireland to a 1-1 draw in the Euro 2012 qualifying game in Torshavn.
In a change with the normal fixture dates haggling, Uefa announced the group schedules on Sunday afternoon and Northern Ireland will open their campaign with an away game against Hungary on Sunday, 7 September.
Next up will be a home game against the Faroe Islands on Saturday 11 October with the away encounter against top seeds Greece on 14 October and 14 November away tussle in Romania completing the 2014 games.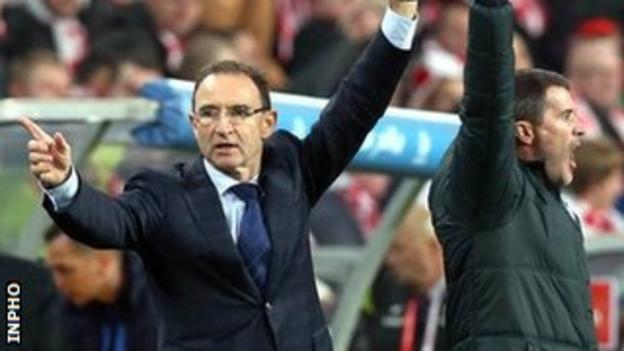 The campaign will resume with the Northern Ireland's first ever home international on a Sunday when they face Finland on 29 March and Michael O'Neill's side will then host Romania on 13 June.
Back-to-back games against the Faroes (away) and Hungary (home) will follow on 4 and 7 September before Group F will conclude with the games against Greece on 8 October and Finland on 11 October.
In November, Irish FA chief executive Patrick Nelson said that he believed Northern Ireland had a "big chance" of qualifying for Euro 2016 given the increase in teams from 16 to 24.
Back in November, Michael O'Neill played down the chief executive's comments but speaking after Sunday's draw, the manager said that he was "happy" with Northern Ireland's group.
"Greece will be a very tough game but it would probably be the country you may have chosen [from the top pot]," said O'Neill.
"We have teams in there - the likes of Hungary, Romania and Finland - that I believe we can compete with and take points from.
"We need to maximise our points at home. We're well capable of doing that."
Northern Ireland have not qualified for a major tournament since the 1986 World Cup and they have never participated in the European finals.
"Automatic qualification is the aim but having third place to aim at also helps," added O'Neill.
"You could possibly get third place with 14 points, which I think is achievable."
Martin O'Neill described the Republic's group as "difficult but exciting" as he faces up to challenging the Germans.
"Germany are the outstanding team in the group but there's plenty to fight for. Let's be positive and let's go for it," added the Republic manager.
"With the exception of Germany, it looks like a group where lots of teams will be able to take points off each other and I think it will be tight right until the end.
"To reach France, especially out of this group, would be the utopia. It would be amazing but we have a lot of fighting to do between now and then."
In a change with the normal fixture dates haggling, Uefa will announce the group schedules on Sunday afternoon following a meeting with broadcasters.
Euro 2016 qualifying groups:
Group A: Netherlands, Czech Republic, Turkey, Latvia, Iceland, Kazakhstan.
Group B: Bosnia-Hercegovina, Belgium, Israel, Wales, Cyprus, Andorra.
Group C: Spain, Ukraine, Slovakia, Belarus, FYR Macedonia, Luxembourg.
Group D: Germany, Republic of Ireland, Poland, Scotland, Georgia, Gibraltar.
Group E: England, Switzerland, Slovenia, Estonia, Lithuania, San Marino.
Group F: Greece, Hungary, Romania, Finland, Northern Ireland, Faroe Islands.
Group G: Russia, Sweden, Austria, Montenegro, Moldova, Liechtenstein.
Group H: Italy, Croatia, Norway, Bulgaria, Azerbaijan, Malta.
Group I: Portugal, Denmark, Serbia, Armenia, Albania.