World Cup 2014: Why Uruguay could be England's 'party poopers'
By Tim Vickery
South American football writer
Last updated on .From the section Football661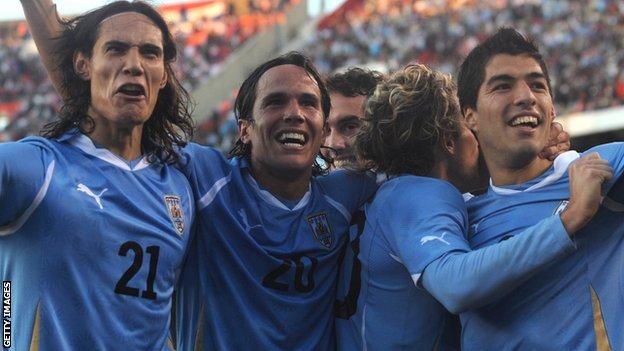 It was all smiles last week when Roy Hodgson met Uruguay coach Oscar Washington Tabarez at the Fifa team workshop get together in Florianopolis, southern Brazil.
Their next encounter, a few hundred miles further north, promises to be a bit less cordial.
England and Uruguay face each other in Sao Paulo on 19 June in their second Group D fixture, a match vital to both teams' chances of going through to the knockout phase.
Hodgson, methodical as ever, will have done plenty of homework on the opposition. In truth, though, there are hardly any secrets about the Uruguayans. With the odd tinker here and there the squad has been virtually unchanged for years.
Tabarez has a clear idea of what his team are trying to achieve, as he outlined in a press conference a few days ago.
"We know that we are not among the favourites," he said. "But we also know that if we prepare well we can be a very difficult opponent to take on, and that is going to be the centre of our thoughts."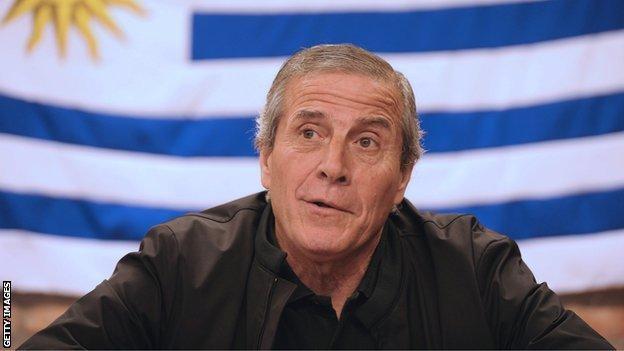 It is a phrase that reveals much about Uruguay's tactical approach. Their performance in qualification can be divided into three distinct phases.
A disastrous 2012-13, when they were leaking goals all over the place.
Regrouping and finding their traditional backs-to-the-wall resilience to win four hard-fought victories in the last four games, thus making it through to an easy play-off against Jordan.
The lesson learned in the time of adversity was that Uruguay had perhaps lulled themselves into thinking they were better than was really the case.
In order to grind out results they had to operate within their limitations, put aside notions of out-playing the opponents and instead focus on covering up their weak points.
The defensive unit and the holding midfielders have been together since the Copa America of 2007. There are some ageing limbs in there, owned by players now too slow to be caught in open space.
This, though, does not apply to the front pair. If Diego Forlan has declined to the point where he is now an option on the bench, Luis Suarez and Edinson Cavani are bang in the middle of their footballing prime.
A British audience needs no introduction to the extraordinary talent of Suarez, who is likely to operate as the lone out-and-out striker, on the shoulder of the final defender.
Cavani, though, is just as important. He is a player of remarkable unselfishness and an exceptional capacity for work.
Tabarez describes him as "the perfect son-in-law," since he is so willing to place his ability at the service of the team. For Uruguay he might even be described as a box-to-box centre forward - and he needs to work back in order to link the side.
Uruguay's method of play over the last few months has been to sit deep with the defence and the midfield close together. This both shields the lack of pace at the back, and opens up space to slip the strikers on the counter.
The draw may not have been kind to Uruguay in terms of their opponents - Group D is the only one containing three former champions. But the order of the matches could hardly be better.
Uruguay will hope to beat Costa Rica, on paper the weakest of their rivals, in the opening game - thus allowing them to play cautiously in the other matches, keeping it tight and choosing their moment to strike.
If there has been a decisive result in the Italy v England game then the loser there will have the obligation to force the game, the very scenario that best suits the Uruguayans.
Playing Italy in the final game is also convenient. The Italians would seem to have made an inexplicable mess of their logistics, basing themselves on the coast outside Rio when all three of their matches are hundreds of miles away in the North and North East.
After every game, teams are obliged to return to their base. As well, then, as dealing with the heat, the Italians have also forced themselves to take a series of long and tiring journeys - and Uruguay face them at a moment when this will already have had a draining effect on the players.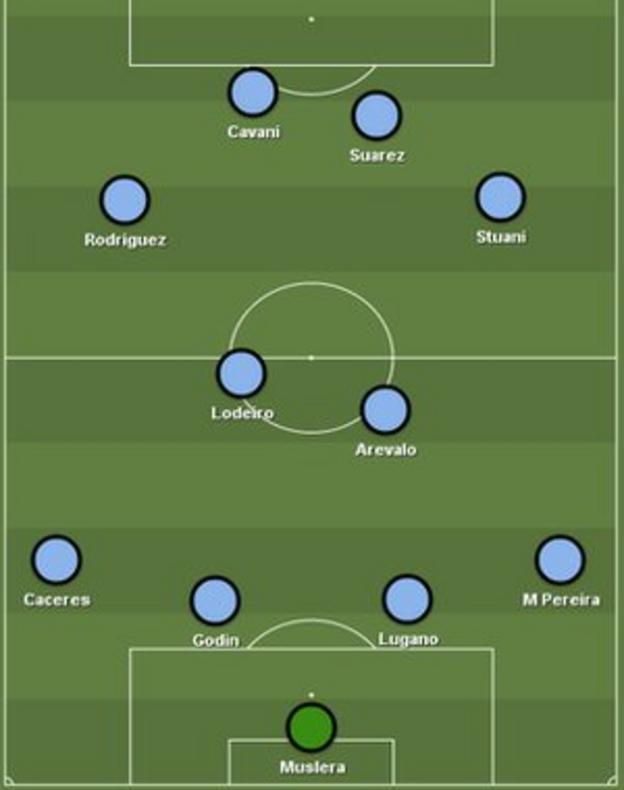 And if Uruguay can take advantage of this to qualify for the group, then the climate and atmosphere of the knockout games is also in their favour.
They can be happy while the score is 0-0, waiting for the opponent to over-commit in order to launch their strikers on the break.
"We're party-poopers," said Tabarez last week. "We went to South Africa and eliminated the hosts in the group phase, something that had never happened before in the history of World Cups.
"Then came Ghana, and we ruined that party, with all the Africans cheering on our opponents. And we went to Argentina and won the record 15th Copa America, knocking out the hosts along the way. It's how we are."
Of course, if Uruguay are really to pour water into the 2014 champagne, it will mean a repetition of their 1950 feat, when they beat Brazil in the final game.
"I hope we play Brazil this time," says Tabarez, "because it means we will have made progress in the competition. But there's no connection between now and then.
"The world was very different. Brazil was different, and Uruguay were much more of a force then than we are now."
Indeed, back then Uruguay had never lost a World Cup match, a run which went on to include their massacre of Scotland in 1954 and their elimination of England in the quarter finals.
Then came their first defeat - in the semi finals to the wonderful Hungary side, a game some at the time rated as the greatest ever played.
The 2014 model Uruguay are unlikely to be involved in such a spectacle this time. Even so, they secretly have some faith that experience, tradition and those strikers might be enough to launch a challenge.
Send questions on South American football to vickerycolumn@hotmail.com and I'll pick out a couple for next week.
From last week's postbag:
I was wondering what you make of Diego Forlan's transfer to Osaka in Japan; do you think the move will affect his World Cup chances? Dharmist Bathia
I think its affects them positively - certainly Tabarez has been speaking positively about the move. He's had a disappointing few years. I'm not sure whether we can read too much into his relative failure with Internacional of Brazil, however, because they've been a club where everyone was doing badly together.
Now he's going to be getting a regular game and he should be sharp for the World Cup. He might have to settle for a place on the bench, but I think he still has a role to play in what will surely be his last international competition.
After all of the attention on Brazilian playmaker Paulo Henrique Ganso a couple of years ago when he was at Santos, it seems to have died down a lot since his move to Sao Paulo and he hasn't been picked with Scolari at the helm. Has Ganso been playing well enough and does he have any chance of receiving a call up for the World Cup? Robin Leslie
It's extremely unlikely. We are dealing with a player who is approaching his mid-20s and still has not made the breakthrough from promise to reality. There are two explanations. Firstly, his knee problems and secondly, he was hyped to the skies before he had actually done anything, mainly because he is such an attractive passer of the ball that people were willing him to be good.
The praise went to his head - frankly, he should be ashamed of his angry reaction when he was left out of the last World Cup. Playmaker at the highest level is a very tough position and I don't think he was prepared for the degree of difficulty he would face.