Northern Ireland set for first Sunday Windsor Park game
Last updated on .From the section Football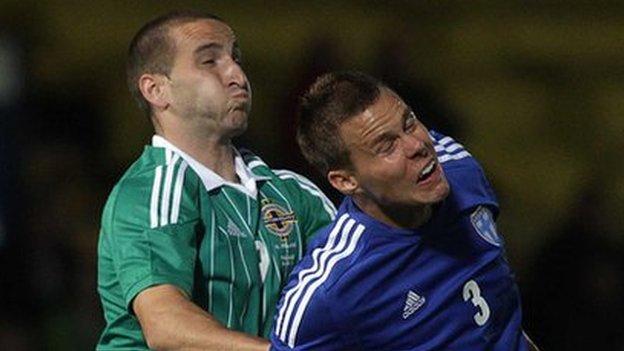 Northern Ireland will play a home game at Windsor Park on a Sunday for the first time when they face Finland in the Euro 2016 qualifiers on 29 March next year.
Uefa decided the dates by computer shortly after Sunday's draw and that resulted in Northern Ireland being given the Sunday fixture.
The Irish FA had known that Sunday dates were likely in the qualifiers.
Prior to the draw, Uefa had decided that Sundays would be used for games.
Given that the Irish FA will have signed up to competition rules prior to the draw in Nice, it seems certain that the Finland game will take place at Windsor Park on the proposed date.
However, there is still likely to be an outcry from some quarters about the historic Sunday game.
For six decades, no Sunday football was allowed in Northern Ireland for religious reasons.
But, in November 2007, the Irish FA voted to scrap the ban, although only a couple of senior football clubs have opted to play games on the Sabbath since.
The Northern Ireland national team have played a number of internationals on Sundays, including a game against France at the 1982 World Cup in Spain when squad member Johnny Jameson refused to make himself available because of his Christian beliefs.
The owners of Windsor Park - Linfield - have also previously made clear their opposition to playing games on a Sunday.
In addition to Finland, Northern Ireland will face Greece, Romania, Hungary and Faroe Islands in the Euro 2016 qualifiers.
In a change to the normal haggling, Uefa announced the group schedules on Sunday afternoon and Northern Ireland will open their campaign with an away game against Hungary on Sunday, 7 September.
Next up will be a home game against the Faroe Islands on Saturday, 11 October with the away encounter against top seeds Greece on 14 October and a tussle in Romania on 14 November completing the 2014 games.
The campaign will resume next year with Northern Ireland's first ever home international on a Sunday against the Finns on 29 March before Michael O'Neill's side host the Romanians on 13 June.
Back-to-back games against the Faroes (away) and Hungary (home) will follow on 4 and 7 September, before Group F will conclude with the games against Greece on 8 October and Finland on 11 October.