Former Blackburn manager Steve Kean 'loving' Brunei coaching role
Last updated on .From the section Football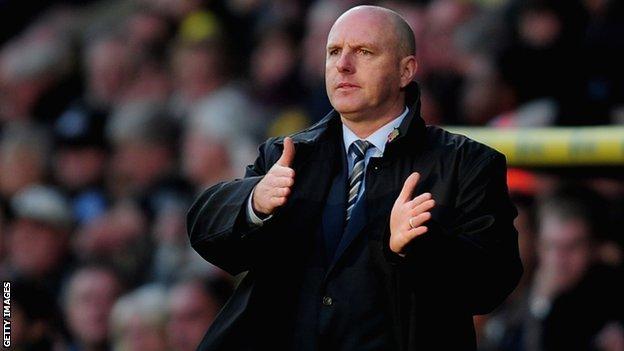 Former Blackburn manager Steve Kean is happy with his new coaching role in Brunei after the turbulence of his spell at Ewood Park.
His first competitive game was a 1-0 win over Albirex Niigata as Singapore's S-League season started last weekend.
"I'm very happy. I'd like to be here for the long haul," he said afterwards.
"I'd like to stay here and develop our club and I think football is only going to get bigger here in years to come."
Brunei, which is a sovereign state on the island of Borneo in the South China Sea, has a population of just over 400,000.
The club play their football in the S-League as the domestic challenge is too small for their ambitions.
That means a two-hour flight for every away game but the club's colourful owner crown prince Al-Muhtadee Billah has targeted league and cup success.
Billah used to be the club's keeper and is first in line to the throne. He has also represented Brunei at pool.
"At first I spoke with the crown prince and with the management of the club and they told me the ideas that they had for DPMM," said Kean, 46.
"It wasn't necessarily the S-League as such that attracted me but when I spoke with the crown prince and they told me how they want to take the team, how they want to improve the local players, how they want to try and help coach the coaches.
"That's going to be a part of my role as well, helping the coaches that we have in Brunei."
It is a task and situation in stark contrast to his time at Blackburn, with average attendances in the S.League being around the 1,000 mark, although Kean's side have a 30,000-capacity stadium to play in.
Kean was an assistant manager at Fulham, Real Sociedad and Coventry City before taking over from Sam Allardyce at Blackburn in December 2010 shortly after the club were taken over by Venky's Group from India.
'Kean Out' banners were a familiar sight on the Ewood Park terraces as he failed to win the team's supporters over, with Rovers also struggling on the pitch and being relegated from the Premier League in May 2012.

Nevertheless, Kean's switch to Brunei still raised eyebrows.
DPMM had joined the S.League in 2009, becoming the first team to play their home matches outside of Singapore at the Hassanal Bolkiah National Stadium, and they won the League Cup.
The team returned last year after opting out of the league for two seasons and again enjoyed League Cup success.
"We've committed to the league for the next two years, we want to win it for the next two years," said Kean.
"I love it. I've got good control as far as letting the management and the crown prince know what players I want to take on board, how we want to play.
"Our facilities in Brunei are exceptional. And I think we've got a tight group. We've got a good team spirit."
On a possible return to English football, he added: "I never closed any doors but now that I'm here I'm enjoying it, the players are responding to the coaching sessions that we're putting on for them, and long may that continue."