Robbie Savage: How Sunderland can beat Man City at Wembley
Last updated on .From the section Football

In his regular BBC Sport tactics column, Robbie Savage looks at Sunday's Capital One Cup final between Manchester City and Sunderland.
City are big favourites to win for a reason: they are the better team in every department.
But Sunderland beat them 1-0 at the Stadium of Light in November and, from stopping City from scoring to attacking their weakest link, Black Cats boss Gus Poyet will have a plan on how to repeat that result at Wembley.
Stopping City is the first objective
The first target for Sunderland will be to achieve another shut-out.
Other than the Black Cats, only four teams have stopped City from scoring this season - Stoke, Chelsea, Norwich and Barcelona.

To do it again, Sunderland are likely to be set up exactly the same way as they were in their win in the league, when they defended in numbers and attacked on the break.
Looking at the statistics from Sunderland's win at the Stadium of Light, at first glance it seems hard to believe they won: Manuel Pellegrini's side had 24 attempts on goal and 14 corners, compared to five shots and no corners by Sunderland.
But City were always going to have more possession and have more attacks. The key was dealing with that.
Sunderland did not keep a clean sheet in that game because of luck, great saves from Vito Mannone or poor finishing from City. They won because they were well organised and Poyet's gameplan worked.
Poyet accepted City would have more of the ball but told his players to retreat to the halfway line when City had possession and to be compact in their own half, which is where most of the game was played.
He packed his midfield, protected his defence and denied City space when they came forward. There was no room for them to play through the Black Cats.


It worked, and City got frustrated: of their 24 efforts on goal in that game, 14 were shots from outside the area. That will have suited Poyet just fine.
As well as shooting from distance, City also tried to go wide and put crosses into the box but, again, that played into Sunderland's hands.
With John O'Shea and Wes Brown starting together in the league for the first time this season, Sunderland had a pair of big defenders who were happy to deal with those kind of attacks. City put in 38 crosses as well as those 14 corners, but managed only six headers at goal.
The sum total of City's pressure was four efforts on target for Mannone to deal with.
He had to make good saves to deny Sergio Aguero and Edin Dzeko - both with shots from outside the box - but it will be job done for Poyet if he can protect his keeper as well again this weekend.
The size of the Wembley pitch is often used as a reason why it is difficult to deny attacking players space in the way Sunderland will look to do against City, but at 105m x 69m it is almost the same size as the pitch at the Stadium of Light (105m x 68m). It will not be a factor on Sunday.
Why Brown and O'Shea are key
When it comes to keeping City out, it is fantastic news for Poyet that Wes Brown is back from suspension.
Brown and John O'Shea were brilliant together in the centre of Sunderland's defence against City in Brown's first start after 21 months out injured, and it was no fluke.

When the former Manchester United duo have played together in the league this season, Sunderland have won twice as many games and have conceded half as many goals.
They are big, strong defenders who organise their team-mates as well. But they both have to be careful.
One error could destroy Sunderland's entire gameplan and both Brown and O'Shea have been guilty of some very costly mistakes this season.
Brown has been sent off three times this season. He was unlucky with one of those red cards but twice he walked for rash challenges and O'Shea has also seen red for doing the same.
Sunderland with/without Brown & O'Shea

2013-14 Premier League

With

Without

Games

13

13

Won

4

2

Lost

5

9

Win %

30.8%

15.4%

Conceded

14

28

Goals conceded per game

1.1

2.2

Points per game

1.2

0.6

Stats: Opta
Sunderland have only lost five of the 13 games they have started together, and two of those defeats came after a Brown red card.
So, first and foremost, they have to make sure they stay on the field but, for Sunderland to stand any chance, they will also need to repeat the perfect game they produced at the Stadium of Light.
Any mistake in their position and they will get punished.
Turning defence into attack
All of Sunderland's players will have to work hard defensively at Wembley, but they will defend as a team, not individuals.
There will be trigger points where they wait for the ball to get into a certain area and then react together in a kind of domino effect.
For example, when City cross the halfway line, the Sunderland striker will go to close down the ball and, when he goes, two of the central midfielders behind him will also do the same.
Behind them, their centre-backs and full-backs will push up to compact the space that City's creative players like Silva will have to operate in.
It is a tactic I know well from my time playing under Mark Hughes at Blackburn. As Stoke manager, Hughes has used it twice against City in the league this season - he was unlucky not to beat them at the Britannia Stadium in September, and then frustrated them for long periods at Etihad Stadium in February.
The main aim of this is defensive, but it can also lead to chances for Sunderland if they can manage a turnover of possession when City have men out of position or too far forward.
Johnson up against City's weak link
Adam Johnson will be the first player Sunderland look for when they win the ball back.
He is likely to play down the right side and look to cut inside on to his left foot when he runs with the ball. If he does, it will mean Sunderland's best attacking player is up against City's defensive weak link.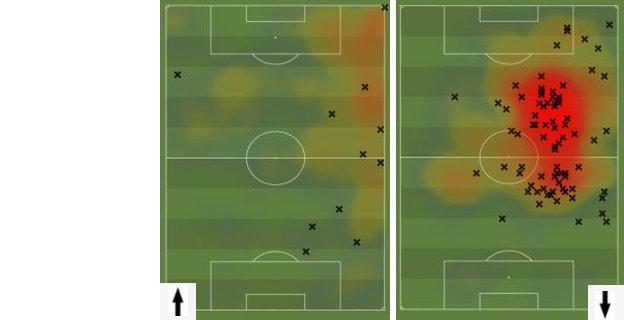 Martin Demichelis operates as City's left-sided centre-back and, whether he has Gael Clichy or Aleksandar Kolarov next to him as his full-back, that flank is far less secure than Vincent Kompany and Pablo Zabaleta's partnership on the right.
In three of City's last four league games, Cardiff, Chelsea and Stoke have all attacked down that side more than any other third of the field, and Barca also did the same in their Champions League win.
Cardiff and Barca both scored goals that stemmed directly from Demichelis mistakes and Poyet will be hopeful there are more errors left in him.

Kompany was injured when Sunderland beat City in November and Demichelis played as the right-sided centre-back that day.
Poyet put Johnson on the left that game but he still came infield to attack Demichelis, the same as he will on Sunday.
Johnson did not hurt him directly but Demichelis was at fault for Sunderland's winner, failing to cover James Milner when he slipped and being left horribly out of position when Phil Bardsley scored.
Can Johnson take advantage this time? Well, he is a form player and a confidence player.
After a superb start to 2014 with six goals in five league games he has not had much of a sniff in his last two matches; defeats by Hull and Arsenal.
Adam Johnson in the Premier League

2013-14

August-December

January onwards

Games

17

7

Goals

1

6

Assists

1

2

Shots

15

13

Shots on target

4

8

Shooting accuracy

26.67%

61.54%

Stats: Opta
But I look at Johnson with his pace and skill and ability to shoot or whip in a dangerous cross and think he can do some damage if Sunderland can work a situation where they can expose Demichelis and Johnson can run at him.
Even if Sunderland score, I still think City will win but if they stick to Poyet's plan, the Black Cats will definitely make it difficult for them.
I predict a tight game, with City edging it by the odd goal.