Rangers: Ally McCoist delays squad rebuilding plans at Ibrox
Last updated on .From the section Football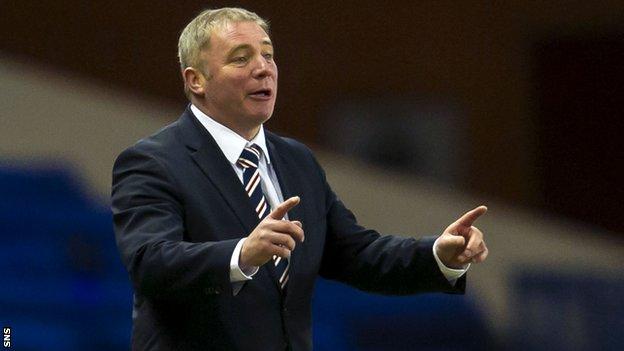 Rangers manager Ally McCoist has admitted his squad rebuilding plans are on hold until Graham Wallace completes his 120-day review of the Ibrox club.
The chief executive is halfway through his exercise and McCoist admits his own transfer plans have been halted.
Asked if his preparations had been left in limbo, McCoist said: "I think that is a fair point, absolutely.
"But I understand the fact Graham has asked for 120 days and I think we should certainly give him that."
The SPFL League One outfit confirmed on Monday that they have borrowed £1.5m from shareholders Sandy Easdale and Laxey Partners Ltd.
Football board chairman Easdale is providing £500,000, while the investment group is supplying the rest of the funds.
The League One leaders announced a £14.4m loss in the 13 months to June and the playing squad refused to accept a 15% wage cut.
Rangers say the cash will be used for working capital over the coming months.
Easdale's investment comes on a no-fee and no-interest basis, while Laxey Partners will lend the club £1m, with both sums secured against the Edmiston House and Albion car park facilities near to Ibrox.
Wallace's 120-day review is due to end on 18 April, but McCoist believes he will have time to realise his ambitions for the Ibrox squad ahead of next season.
"I would hope we would have enough time to make the preparations we need after the review is completed," he said ahead of Tuesday night's league clash at Stranraer.
"We are keen to get the football side of things moving and to continue to move forward. There are lots of issues we have to address on the scouting, medical, transfer and contract fronts.
"On our side of the business, we are keen to get moving, so I would be very hopeful that we would have enough time."
McCoist admitted to slight concerns that the club had to borrow £1.5m but stressed he had been assured it was part of the board's plan to see the club out of danger after last year's £14.4m losses.
"How beneficial this will be for the club is not really a question I can answer - that's one for the chief executive and the board - but I have been told it's part of a plan that they had," the Rangers boss added.
"I would hope it would be a positive step, but to my knowledge, it will not have any impact on my plans for the squad.
"I will have a better idea of what we have for next year's budgets in terms of players coming in after Graham has completed his 120-day review."