Rangers: Imran Ahmad fails to have £500,000 cash ring-fenced
Last updated on .From the section Rangers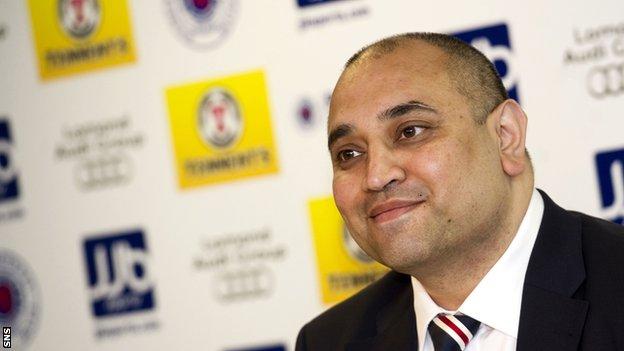 Rangers' former commercial director Imran Ahmad has failed to ring-fence cash at the club ahead of his bid to secure a £500,000 payout.
Ahmad, whose employment with Rangers was terminated last year, maintains he is due bonus money.
His lawyers sought to freeze the cash, arguing that Rangers Football Club Ltd is trading insolvently and would be unable to pay if he won his claim.
But Lord Tyre rejected the motion for arrestment after an opposed hearing.
The judge at the Court of Session in Edinburgh was satisfied that a case at first sight had been made out based on a contractual term, a letter from former chief executive Charles Green and an acknowledgement of work that had been done.
But he was not satisfied that there was a real and substantial risk that enforcement of any court order, if Ahmad succeeded in his claim, would be prejudiced by insolvency.
A four-day hearing of evidence and legal submissions is due to begin at the same court on 1 April.
Lord Tyre said that the finances of a company such as Rangers were cyclical and that there is a dip at this time.
But he found no clear evidence in what had been placed before him that there has been a deterioration in the position since June beyond any cyclical effect.
The judge said he would not regard it as reasonable in all the circumstances to grant a warrant at a time when to take a third of that out of circulation.
Ahmad, who arrived at Ibrox along with Green, initially intended to pursue £3.4m.
It emerged earlier this month that Ahmad's lawyers wished to call Green as a witness, something Rangers are reluctant to see happen.
Rangers chief executive Graham Wallace is seeking to make savings at the Scottish League One club.
Last week he told Rangers TV: "What I can categorically say is that there is no threat of a second administration."