Manchester United: Olympiakos defeat 'a new low this season'
Last updated on .From the section Football
Manchester United were beaten 2-0 at Olympiakos in the first leg of their Champions League last-16 tie.
Afterwards manager David Moyes admitted his team had deserved nothing from the game.
The second leg takes place at Old Trafford on 19 March, but with United sixth in the Premier League and 11 points off fourth spot it could be their last appearance in the competition for some time.
With United also out of the Capital One Cup and FA Cup, Tuesday's loss leaves Moyes facing a first season at the club without winning a major trophy and under increasing pressure.
'A pathetic European performance'
BBC pundit Robbie Savage questioned United's team spirit and their desire after the defeat in Athens, describing the performance as "pathetic".
He said: "The defeat in Greece was a new low for David Moyes's team.
"Yes, the Greek champions are doing well domestically - they are 20 points clear at the top of their league and have not lost any of their 26 games - but Manchester United should not be losing 2-0 there.
"Some players let the shirt down against Olympiakos - no question. The performance was desperately poor.
"It is a good job they were not playing Barcelona or Bayern Munich because the result could have been a lot worse.
"To play for United you have to be technically good but you have to put a shift in as well. Not showing enough desire, not closing the ball down, not putting your body on the line and winning tackles - it is not acceptable.
"All night we saw United players losing the ball in a bad area without making a recovery run. They were giving the ball away constantly and not dynamic.

"In terms of a European performance it was pathetic. Were United lacking leadership, fight, team spirit? I'd say they lacked all three.
"Talent is nothing without heart and desire. They are trying - of course they are trying.
"People say 'do they care?' Of course they care - they are professional footballers. Anyone who says professional players are not trying is talking nonsense.
"But it's all about that little sprint to get the ball back. A run towards your own goal. Closing the ball down quickly. Getting in the face of the ball.
"We have seen that so many times from United in past, typified by that Roy Keane performance against Juventus in 1999 [when United won 3-2 in Italy to reach the Champions League final]. But in Athens it was not good enough.
"Looking in from outside of the dressing room, it is hard to comment on the team spirit among the players. But in Greece we saw people just looking at each other and looking around into thin air.
"Players like Rio Ferdinand, Nemanja Vidic, Robin van Persie and Wayne Rooney, as top players who have been there, done it and won trophies, will be looking around and thinking: 'What on earth is going on? We need help.'"
'United were really, really poor'
BBC pundit Kevin Kilbane was in Athens for BBC Radio 5 live and believes Moyes now needs to put together a 10-match unbeaten run to ease the pressure.
"This was a big European night for Manchester United and they have come up well short," said Kilbane.
"United were wasteful in possession, didn't really create anything and Olympiakos thoroughly deserved the win.
"When I was playing, you knew that when you played against Manchester United they would keep hold of the ball and create a lot of openings, and you would be hanging on against them. But that wasn't the case. Olympiakos were comfortable - they were certainly not hanging on.
"United didn't show any intention of pressing Olympiakos or putting them under any pressure and they were really, really poor.
"On paper, when you looked at the Greek side, United should have played their own game and had enough to dominate but that just didn't happen.
"It took until the last 10 minutes for them to create any real chances and they only really came alive to any extent when they went 2-0 down.
"Rio Ferdinand gave the ball away a few times and that really set the tone for the night. Ashley Young and Tom Cleverley looked low on confidence and didn't want to get on the ball in midfield.
"This is a crucial time for them and realistically they need to go 10-15 games unbeaten now to relieve the pressure on the manager."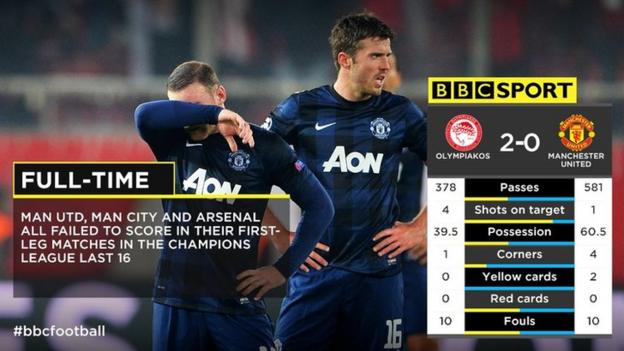 Former Manchester United captain Roy Keane praised Olympiakos for their performance and believes United need some major rebuilding work in the summer.
He told ITV: "There is a lack of confidence and there are some players who just don't have the quality. We've been brainwashed that the Premier League is the best in the world - nonsense.
"It's the best brand in the world but teams have fallen behind the best in Europe, United more than most. They need six or seven players to rebuild the club.
"Privately David Moyes will be shocked at the quality he is working with. Michael Carrick didn't even have any urgency in his post-match interview. It was flat."
Twitter reaction
Match of the Day presenter Gary Lineker: "MUFC have had the odd bad day over the years, but I cannot recall such an abject, hopeless, forlorn performance. And against such mediocrity."
BBC chief football reporter Phil McNulty: "Man Utd got exactly what they deserved losing 2-0. Long time since I've seen them play so badly with such a lack of desire & threat. Awful."
Former Liverpool and Germany midfielder Dietmar Hamann: "Never seen Man United so helpless. Poor with and without the ball. Desperate times, desperate measures. Not many teams spent £70m net this season. I'm not sure whether the board will let the current manager spend the money in the summer."

United's other European Cup lows
The match in Greece was United's 250th European Cup tie and a huge disappointment, but it is not the first time results have gone awry in the competition.
Galatasaray 0-0 Manchester United. Lost on away goals in 1993-94 Champions League second round after drawing first leg 3-3.
Manchester United 1-1 Monaco. Lost in 1997-98 Champions League quarter-finals on away goals.
Bayer Leverkusen 1-1 Manchester United. Lost in 2001-02 Champions League semi-final on away goals.
Zalaegerszeg 1-0 Manchester United. Beaten in first leg of 2002-03 Champions League third qualifying round. Went on to beat Hungarians 5-0 in second leg.
Maccabi Haifa 3-0 Man Utd. Lost to Israeli side in 2002-03 Champions League group stage after they had already qualified.

Manchester United 1-1 FC Porto. Went out in Champions League first knockout round in 2003-04, 3-2 on aggregate.
Lille 1-0 Man Utd. Lost 2005-06 Champions League group game.
Benfica 2-1 Manchester United. Lost 2005-06 Champions League final group game when needing to win. Defeat eliminated them at the group stage for the first time in 11 years.
FC Basel 2-1 Manchester United. Eliminated in 2011-12 Champions League final group game - a draw would have been enough to go through.
Man Utd 0-1 Cluj. Lost at home to Romanian side in 2012-13 Champions League group stage after they had already qualified.