Derby County: Rams hope new scouting set-up will bear fruit
Last updated on .From the section Football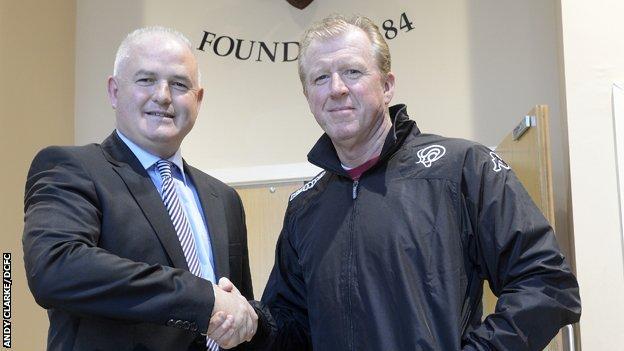 Head of football operations Chris Evans says Derby County's expanded scouting set-up could soon "bear fruit".
Derek Bragg is chief scout, Jamie Johnson is UK scouting head, Joe McClaren is head of U21 recruitment and Mo Camara is European scouting head.
"If we're going to get to where we need to be, the pond we fish in has to be an ocean," Evans told BBC Radio Derby.
The new team has been in place behind the scenes for the past couple of months and Evans, who was appointed soon after Steve McClaren was named as manager, said he has also been busy looking at improving the club's global reach.
"I spent eight days in Argentina," he said. "It was great. There are a lot of good players and if you are prepared to look there are players with European passports.
"Derby does not need selling as far as I am concerned. And without going into too much detail I felt it was a very worthwhile trip. I hope to have it bear fruit in the near future.
"There were one or two targets I went to see. But you are not just judged by what you bring in but what you keep away."
The Rams are third in the Championship table, just two points off the automatic promotion places with 14 games remaining.
Evans said the squad is already in good shape but feels they cannot be complacent.
"It will have to be a good players to be better than we have got," he said. "The table doesn't lie. We have a real top bunch of lads. What we are looking to do is support them with one or two additions.
"I feel I identified a portfolio of different players and equally I kept away several I was told were Pele.
"We have to bring the right players in who are right for Steve. He has spoken about profiles and I know the type of players he likes. We speak every day so I know what he is looking for. Between us I would like to feel we will be in decent shape ongoing."
The Rams have invested heavily in their backroom staff and Evans is convinced this latest revamp is a crucial part of the restructuring since McClaren took over in September.
He said: "It was important for Derby County's future to develop a UK, a European and a global recruiting structure and we have worked hard to put that in place.
"I feel the officers are a good mix, good people and are very proud to represent Derby County - and more than anything, they are prepared to work hard.
"We know historically they will get very little recognition but if we are to be successful then, without a doubt, this department has to do well."
"I feel proud we have a good department together. We are not doing it off the back of a cigarette packet. We are working together and it is fully supported."