Nicolas Anelka: West Brom waiting game as striker battles FA charge

By Richard Conway
BBC Radio 5 live sports news correspondent
Last updated on .From the section Football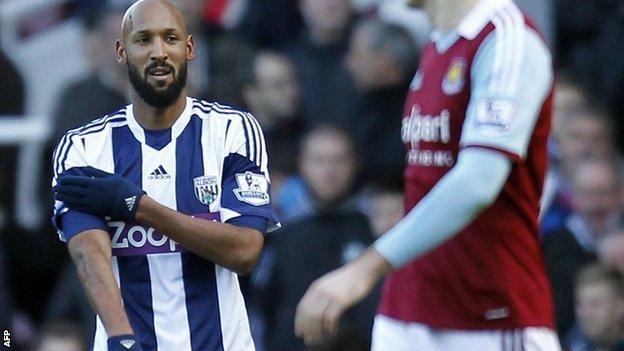 Nicolas Anelka is football's latest test case as society's ills are once more discussed and debated through the prism of the national sport.
Instead, he claims the inverted Nazi salute was an anti-system or anti-establishment gesture, performed in support of his French comedian friend Dieudonne M'Bala M'Bala, the man who popularised the action.
Anelka will hope those claims become reality this week, when he attempts to convince an independent commission, meeting at an undisclosed location, that he is not guilty of any wrongdoing.
The hearing began on Tuesday and is expected to finish on Friday.
Waiting patiently for the outcome is Anelka's club, West Bromwich Albion.
Like Chelsea and Liverpool before them, when John Terry and Luis Suarez were facing racism charges, the Baggies have backed their player, continuing to pick him when available.
Admirable loyalty maybe, but the stance has been costly, both from a commercial and public relations perspective.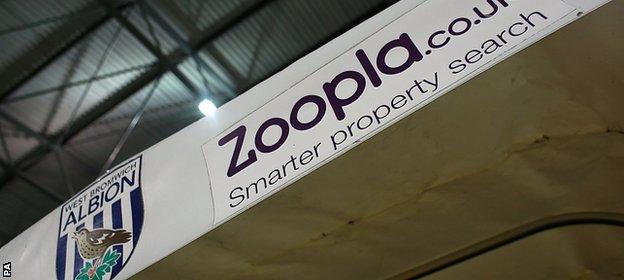 Zoopla, the club's main sponsor, announced it would end its £3m-a-year deal with the West Midlands outfit at the end of the season as a direct result of Anelka's actions, while a number of other sponsors indicated they were also reviewing their position.
Tacit support for Anelka has also put West Brom firmly in the crosshairs of anti-racism groups such as Kick It Out.
Lord Ouseley, Kick It Out's chairman, said clubs should come down heavily on players who step out of line and even accused some of "hiding behind the FA".
"We have clubs who will not take responsibility," he told BBC Radio 5 live Sport back in January. "If this happened in any other arena, your employer would be disciplining you."
Under FA rules, the Baggies are entitled to select Anelka until the independent commission makes its judgement.
They did just that until injury sidelined the Frenchman.
But what disciplinary action could they have taken against Anelka had they chosen to? Could they have sacked him, for example?
According to employment lawyer Neil Johnston, the club would have had difficulty terminating his contract on grounds of gross misconduct.
Firstly, because of the "ambiguity" around the meaning of the quenelle gesture, which has been used by a number of French public figures.
Secondly, because the club chose to play the former France international in defiance of a request not to do so by Zoopla.
Would anything change if Anelka was found guilty of committing a racially aggravated breach of FA rules?
"This may give West Brom grounds to take disciplinary action against him in relation to his conduct and for bringing the club into disrepute," added Johnston, who works for City firm Field Fisher Waterhouse.
"The club would need to plead ignorance of the meaning of the gesture, react promptly and follow a fair disciplinary process."
Even then, there could be repercussions.
"If West Brom did decide to sack Anelka, he will probably bring a High Court claim for wrongful dismissal for the value of the remainder of his contract," warned Johnston.
It was always unlikely that Terry and Suarez, two highly prized players, would find themselves surplus to requirements by their clubs.
"From a practical perspective, Terry and Suarez would have been considered extremely important members of each club's first-team squad," says Daniel Geey, a sports lawyer for Field Fisher Waterhouse.
"The idea that Chelsea or Liverpool would have sacked one of their star players would have been unlikely because they would have been considered valuable assets."
The same cannot be said of Anelka.
Although he has cost more than £80m in transfer fees during a career that has taken him to Arsenal, Real Madrid, Paris Saint-Germain, Manchester City and Chelsea, he joined West Brom on a free transfer last summer and, at 34, is in the twilight of his career.
In short, he is not as valuable as Terry and Suarez.
Despite West Brom's stance, some clubs have taken firm action when their players have been embroiled in controversial incidents.
Cristian Montano was sacked by Oldham Athletic in December after allegations of match-fixing were made against the Colombian winger.
He vehemently denied involvement but, despite no charge being brought against him as yet and having being placed on police bail until April, his club dismissed him on grounds of "gross misconduct".
Despite backing Terry, Chelsea have not always supported their players.
In 2004, striker Adrian Mutu was released by the club after testing positive for cocaine use.
Banned for seven months by the FA, the Blues then pursued the Romanian for compensation, claiming breach of contract.
Perhaps the most famous incident came in 1995, when Eric Cantona karate-kicked and punched Crystal Palace fan Matthew Simmons after claiming he had abused him from the stands.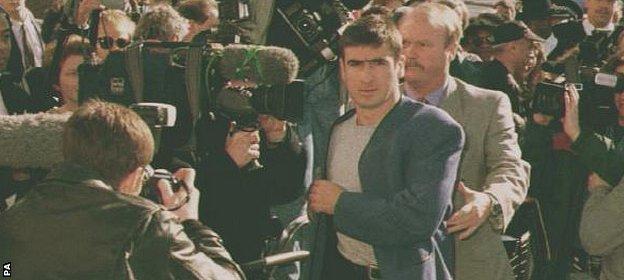 The Frenchman served a four-month suspension handed out by his club, Manchester United, and then a further four months imposed by the FA.
He was also sentenced to 120 hours' community service by the courts.
But, as former FA chief executive Mark Palios warns, the Cantona case was very different to Anelka's.
"His actions were more clear cut rather than something as esoteric as whether a gesture is racist or not," said Palios.
For now, West Brom's strategy is to sit tight and wait for the FA's process to conclude.
Only then we will find out their next move and whether Anelka's future remains in the West Midlands.