Wycombe Wanderers: New buyers unlikely to attend AGM
Last updated on .From the section Football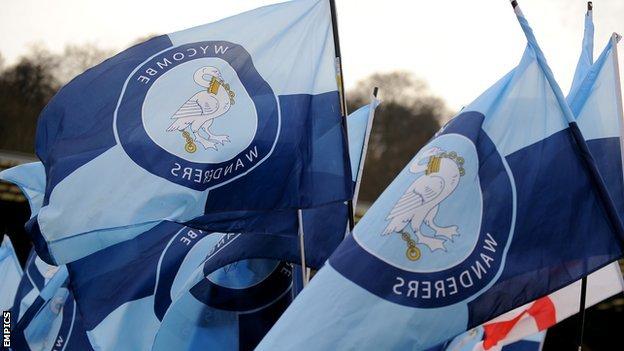 The proposed buyers of Wycombe Wanderers are unlikely to be named at Wednesday's supporters' annual general meeting, as initially planned.
Fans were also disappointed last week when a meeting about the potential sale did not name the company involved.
The sale can only go ahead following a vote among supporters.
Three-quarters of the Trust's 538 Legacy members - those who have been season ticket holders for at least four consecutive years - must vote in favour of the offer, which was made public two weeks ago.
But that is unlikely to be achieved until the identity of the buyers is confirmed, with supporters unwilling to hand over the club to an anonymous owner.
The company, described as a UK-based, solid, well-funded organisation who have had involvement with a football club before, can retain its anonymity through the legality of a non-disclosure agreement.
A statement from WST to supporters read: "We completely understand this will be a huge disappointment to you, as indeed it is to us.
"In the event they do not attend [Wednesday], we will ask them for a confirmed date when they will be able to present their plans to you, and as soon as we have this, a further meeting will be arranged."
The Trust, who took ownership of Wycombe in June 2012, would retain ownership of the club's home at Adams Park and all memorabilia, should the sale go through.