Cambridge United must get heads out of backsides - Richard Money
Last updated on .From the section Football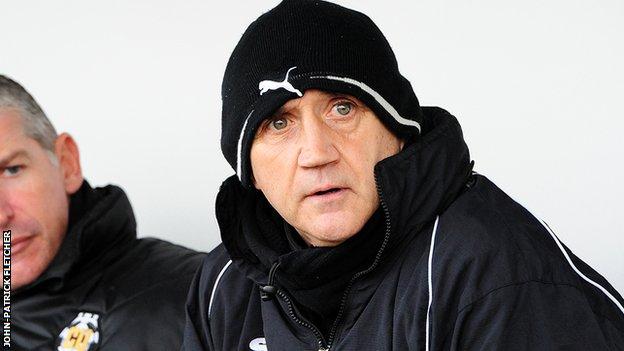 Cambridge United boss Richard Money has warned his side they are in danger of throwing away a play-off spot.
"We've got to get our heads out of our backsides and start working," Money told BBC Radio Cambridgeshire.
"I've seen it so many times - teams in this position can drift away. Listen to my words; they can drift away. We have to make sure between us that we don't."
Cambridge had been in contention with Luton Town for the only automatic promotion spot to League Two, but a combination of the Hatters' blistering 24-game unbeaten league run and the U's faltering have seen a 14-point gap open up at the top.
Now they have just a five-point cushion over sixth-placed Nuneaton, but have up to three games in hand on the teams around them.
"I think for the first time this season I need to apologise to every single Cambridge supporter," said Money.
"That wasn't good enough. And it wasn't good enough by quite a long way. Worryingly so.
"I'm looking at people talking about the play-offs. We ain't in the play-offs. We're a mile away from being in the play-offs.
"We need 24 more points to be in the play-offs. That's a long, long way.
"As a club we have to get our act together very quickly otherwise a good season is going to go down the drain."
The Abbey side have booked a place in the FA Trophy final at Wembley on 23 March, but it is a competition Money has criticised this season, bemoaning the fact games are played on a Saturday and take priority over Conference Premier fixtures.
"I will be as proud as punch to walk out at Wembley with the team behind me," he said.
"But if we let this season drift away because we've got this game at Wembley, we will never forgive ourselves.
"If I'm lying on the beach in the summer and we haven't played in the play-offs and given ourselves a chance of promotion I am not going to be a happy man."