Rail seats will be safer, says Peterborough United CEO
Last updated on .From the section Peterborough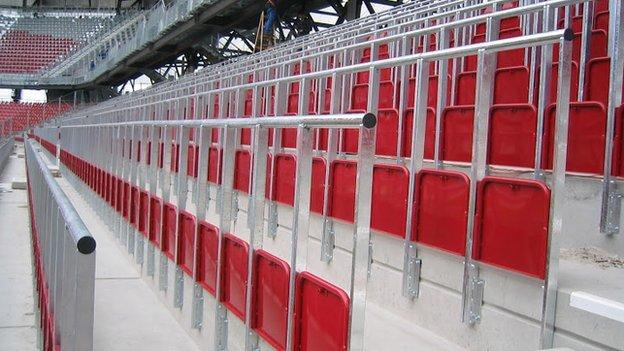 The introduction of rail seating would improve stadium safety, Peterborough United chief executive Bob Symns has said.
Posh are among a number of clubs who want "safe standing" areas at grounds.
The rail seats, which are used in Germany, can be locked or unlocked to create standing or seated areas.
"We've a chance to bring new technology to stadiums. It will be safer than what we've got at the moment," Symns told BBC Late Kick Off East.
"At stadiums all around the world people are standing in seated areas. We can't stop that, so let's find a way of making it safer for everybody.
"And if somebody stands up in front of you and ruins your day out, we can eliminate that."
All-seater stadiums have been compulsory in the Premier League and Championship since an inquiry into the 1989 Hillsborough disaster, which claimed the lives of 96 Liverpool fans.
Standing is allowed in League One and League Two, but Championship grounds must be all-seater after a club have played in the second tier for three seasons.
Posh's fellow League One side Bristol City plan to install rail seats, but they will initially be used for rugby games at Ashton Gate.
The Football League has agreed to lobby the Government in a bid to permit "safe standing" areas in the game.
"I don't see any reason not to have a trial period," said Symns, who brought the issue to the attention of the Football League two years ago.
"We've asked them to challenge the Department for Culture, Media and Sport on this, so that we can have areas where people can come and see rail seating - try it, touch it, feel it.
"I think it will change the perception that it's a bad thing. It's not, it's a safer thing."
The concept has been questioned by the Hillsborough Family Support Group, which is waiting for new inquests into the tragedy to start.
"We respect what happened to the 96 and their families and that will never go away," added Symns.
"But I think in the longer term we've learned that wasn't because they were standing - it was about game management. We never want to go there again.
"Here's something that's even safer. We're not going back to all-standing stadiums in any shape or form.
"This will just be there for people who wish to stand at matches, who are currently standing in seated areas."
Peterborough's London Road ground is being redeveloped, with the Moy's End undergoing a complete rebuild.
Should Posh win promotion to the Championship this season, they will have surpassed three seasons in the second tier and will need to close the standing areas of their ground or install seating.