Atletico Madrid v Real Madrid: La Liga rivals set for 'do or die' derby
By Andy West
European football writer
Last updated on .From the section European Football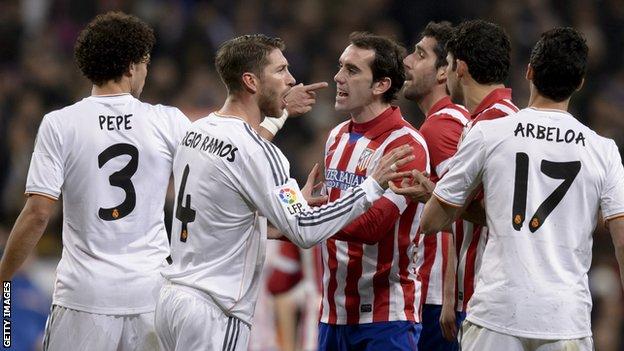 In the past decade, the Spanish La Liga title race has only ever contained two teams, with Barcelona and Real Madrid enjoying unchallenged supremacy.
Since Valencia's title triumph in 2004, Barca have taken six titles and the remaining three have been claimed by Real, with no other team coming close to disrupting the duopoly. In the last five seasons, the gap between first place and third has never been fewer than 17 points.
But the current campaign has been different, with a third party barging their way into the proceedings: Atletico Madrid.
Diego Simeone's low-budget team have exceeded all expectations, maintaining their title challenge while also marching through the Champions League, in which they already have one foot in the quarter-finals after beating AC Milan 1-0 in the last-16 first leg at the San Siro.
In recent weeks, however, Atletico's league form has faltered, with back-to-back away defeats at lowly Almeria (0-2) and Osasuna
Atletico, who are level on points with second-placed Barcelona and three points behind leaders Real, are far from out of it, but this weekend's home derby with their cross-city rivals, who beat Schalke 6-1 in midweek, has become a do-or-die situation for the Rojiblancos.
In the build-up to a local derby with huge implications for the title race, BBC Sport looks at three head-to-head battles that will go a long way towards deciding the outcome.
Diego Simeone v Carlo Ancelotti

Real Madrid coach Carlo Ancelotti had a sizeable set of demands on his to-do list when he left Paris St-Germain to take over at the Bernabeu in the summer.
The tasks facing the former Chelsea boss were to reunite a club that had been torn apart by Jose Mourinho's divisive final season in charge, instil a new possession-based style of play rather than the counter-attacking approach favoured by Mourinho, and successfully integrate a batch of expensive summer signings while still winning trophies.
Seven months on, Ancelotti is on track to meet every demand. It wasn't always easy, with the opening weeks of the season presenting a ragged bunch who looked uncertain at the back and relied upon individual brilliance rather than cohesive team play in attack.
Gradually, though, the Italian calmly found the right balance between defence and attack, devising a playing system which suits the players at his disposal.
A key factor was the return to fitness of Xabi Alonso, whose disciplined excellence in front of the back four provides the basis for a structure which allows Real to attack and defend as a team.
They have now gone 27 games unbeaten since a disappointing display in a 2-1 defeat against Barcelona in October, and Ancelotti has overcome his early difficulties to mould a balanced outfit which looks capable of becoming world-beaters.
Facing Ancelotti from the home dugout on Sunday, Atletico boss Simeone is one of the fastest-rising managerial talents in the world.
His achievements with Atletico - where he won a league and cup double as a player in 1996 - have led to speculation linking him with the Argentina national team if current incumbent Alejandro Sabella departs his post after the World Cup finals. Some Barcelona-based media have this week been touting him as a potential replacement for Tata Martino at the Nou Camp.
In a little over two years in charge at the Vicente Calderon, Simeone has won the Europa League, the Uefa Super Cup, the Copa del Rey and transformed his team into genuine title challengers - all while working under severe budgetary constraints.
Simeone is a beguiling, captivating character. Tactically, he is extremely consistent, rarely deviating from a defensively disciplined 4-4-2 formation which encourages inventive wide midfielders Koke and Arda Turan to drift inside, creating space for excellent full-backs Filipe Luis and Juanfran to offer attacking width.
Generally, you know exactly what to expect from Atletico. One notable exception, however, is their set-pieces, with Simeone and his part-time rock band lead singer assistant German Burgos - a former Argentina international goalkeeper - regularly dreaming up clever free-kick routines to catch opponents off guard.
Simeone was, of course, in the Argentina team which knocked England out of the 1998 World Cup finals in a game containing a well-worked free-kick goal by Javier Zanetti; as a manager, Simeone has made that kind of routine his speciality, and it's likely he'll have a trick or two up his sleeve for Real on Sunday.
Thibaut Courtois v Cristiano Ronaldo

Predictably, Cristiano Ronaldo has been at the forefront of the action - for better and for worse - in recent meetings between the two city rivals.
His performance in last season's league clash at the Bernabeu was arguably one of his very best in a Madrid shirt, as the Portugal star broke the deadlock with a brilliant free-kick and then provided an assist for Mesut Ozil in a 2-0 win.
Last May, Ronaldo again scored the opener in the Copa del Rey final between the teams, this time with a superb header, but he was subsequently sent off in extra time as Atletico mounted a thrilling comeback victory.
And most recently, the Ballon d'Or winner scored two penalties in his team's cup semi-final win at the Vicente Calderon Stadium earlier this month, before inadvertently creating headlines by being hit on the head by a lighter thrown from the crowd as he walked towards the tunnel at half-time - an offence which earned Atletico the comically small fine of £492 (600 euros).
On Sunday, Ronaldo will be playing his first league game in four weeks after serving a three-match ban for a red card in a 1-1 draw at Athletic Bilbao. And although Real have coped fine without him in the last few weeks, he remains by far their most important player and their most potent match-winner.
With 22 goals in 21 games, Ronaldo is La Liga's leading goalscorer and his record of nine goals in his last seven derby games - including a hat-trick at the Vicente Calderon in April 2012 - will ensure another 'warm' welcome from the home fans on Sunday.
The man whose goal will be peppered by Ronaldo's missiles is young Belgian goalkeeper Thibaut Courtois, who has been the biggest single factor behind Atletico's ability to compile the best defensive record in Spain over the last two seasons.
The 21-year-old Chelsea loanee's long-term future is in doubt, with Jose Mourinho recently stating that he expects the agile and athletic keeper to spend next season back at Stamford Bridge.
If he is allowed to leave again, however, whether permanently or on another loan, there will be no shortage of suitors. In fact, the club most heavily linked with his signature in recent weeks has been none other than Real Madrid.
Speculation has also suggested Barcelona are interested as they seek a replacement for the departing Victor Valdes, and while Atletico would love to keep him, they probably won't be able to afford him.
Indeed, if Courtois repels Ronaldo on Sunday it could only serve to add another couple of million to his asking price, making it even more unlikely that he'll play for Atletico next season.
Diego Costa v Sergio Ramos

When Spanish football's most aggressive and confrontational striker goes head-to-head with a defender burdened by one of the worst disciplinary records in the history of La Liga, it's pretty obvious that sparks will fly.
If you then throw in the added ingredients of the hothouse atmosphere of a local derby and potential title decider, there's potential for mayhem.
Diego Costa has been Atletico's key force this season. After spending the last couple of seasons in the shadow of Radamel Falcao, he has seized the opportunity presented by the Colombian's departure to Monaco and become a formidable presence - not least at the Bernabeu in September, when he scored the only goal in Atletico's 1-0 win.
Costa is by no means the most technically gifted striker, but he plays with relentless ferocity and intensity, never giving less than maximum effort. That said, his competitive spirit can overspill with apparent dives, constant moaning and late challenges par for the course.
If there's any player in Spain who can match the Atletico striker in that department, though, it is Sergio Ramos, whose disciplinary record - a Real Madrid record of 18 red cards by the age of 27 - is already the stuff of legends.
Fittingly, Ramos was rested from last week's victory over Elche because he has already received nine yellow cards this season and another caution would have triggered a ban this weekend.
Those disciplinary issues shouldn't obscure the fact, however, that Ramos is a magnificent defender. Brave, strong, imposing in the air, good on the ball and an excellent reader of the game. It's not by accident that he's already won 115 international caps.
The physical battles between Costa and Ramos - supported by his far from shrinking violet defensive partner Pepe - have been consistent features of recent local derbies.
Ironically, these fierce old foes are set to become international team-mates, with Brazil-born Costa having made the controversial decision to switch his allegiances to Spain and earning his first call-up into the squad for next week's friendly against Italy.
And perhaps with a bridge-building process in mind, earlier this week Costa claimed that he and Ramos enjoy an amicable off-the-pitch relationship, saying: "If I have to hit him, I'll hit him. If he has to hit me, he'll hit me. But always in a loyal way, within the bounds of the game."
Expect Sunday's encounter to contain more than its fair share of hitting.