Rangers: Dave King urges fans' boycott of season tickets
Last updated on .From the section Football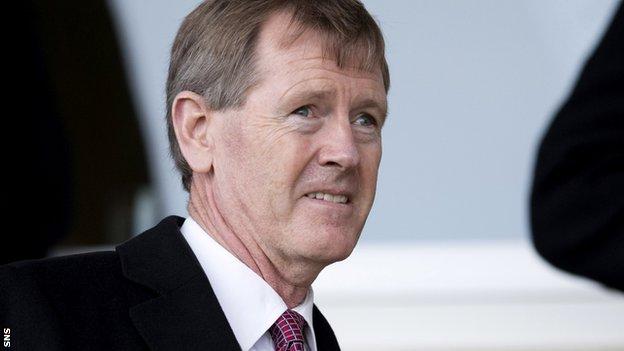 Former director Dave King has urged Rangers' fans to withhold season ticket money until they receive assurances about the League One club's future.
The South Africa-based businessman is concerned about the implications of the club announcing last week that they are to borrow £1.5m from two shareholders.
King said his own offer to put fresh investment into Rangers was rejected.
"My assessment is that the business is not commercially sustainable in the short term," he said.
In response to King's lengthy statement, Rangers issued a one-line response.
"The board notes Mr King's comments with concern as they are potentially de-stabilising and damaging to Rangers Football Club," it said.
Rangers chief executive Graham Wallace last week insisted that the club were not under threat of a second period in administration before this week confirming the loans from Sandy Easdale and Laxey Partners Ltd.
King said this proved that previous assurances that the club had sufficient funding to last the season were untrue and indicated "the desperate financial position that the club is in".
"This lack of transparency on the present and projected funding position is extremely worrying," he said in a statement.
"The fans have no proper insight into the owners of the club and who represents which shareholders on the board.
"The board has strenuously resisted any attempt by the fans to find out who key shareholders are. What is known is that the current board members have a very minor stake in the club."
Rangers fans' groups last week wrote to the board seeking assurances about the Ibrox club's future.
Now King has proposed that they only buy season tickets into a trust and only pass the money to the club on a "pay-as-they-play" basis or as security against the club's property and should insist on a representative on the board.
"In that way, the fans will have some protection from a future event of failure if the board cannot bridge the funding gap that clearly exists," he said.
King argued that Rangers requires "a level of soft investment" from people more interested in success off the field than on a financial return.
"I have been such an investor and want to be so again," he said. "I would like to lead a fan-based initiative to acquire an influential shareholding in the club.
"I had hoped to serve as a bridge between non-aligned stakeholders and the club, as well as seeking a way forward that could accommodate all interests.
"I no longer believe that I can achieve this with the board that is presently in place.
"During this period, I made it clear to the board that I am a potential source of funding by way of a new capital injection.
"My prime condition is that any funds introduced by me would go into the club for the benefit of the team and the dilapidating infrastructure."
Rangers manager Ally McCoist this week admitted that his squad building plans were on hold while his chief executive concentrated on what King described as "cutting costs to match the income".
"It is correct that any club must, over the long term, operate within its means, but in the short term, Rangers needs a significant once-off financial boost that cannot be met from the current revenue stream," said the former director.
"Without this, we will not get back to where we should be."
King thought that "right-sizing" the club would hand many more titles to Glasgow rivals Celtic even once Rangers return to the top flight.
"If we cut our costs to suit our present income, we will remain a small club and Celtic will shoot through 10 in a row - and beyond - while we slug it out for the minor places," he said.
Ahead of King's statement, Rangers chairman David Somers had rejected suggestions that the businessman had offered the club an interest-free loan, such as had been made by Easdale.
"I have been in email correspondence with Mr King and suggested that, even though he is not a current shareholder, I would be interested in hearing any proposals he might have," Somers said in a statement on the club website.
"Mr King replied and indicated a willingness to consider participating in any future equity issue that the club might undertake.
"This has been the extent of the discussion and I repeat that no offer of an interest-free loan has been received from Mr King, or anyone else, apart from Mr Sandy Easdale."