Euro 2016: Gibraltar's Scottish coach eyes rock solid debut
By Clive Lindsay
BBC Scotland Sport
Last updated on .From the section Football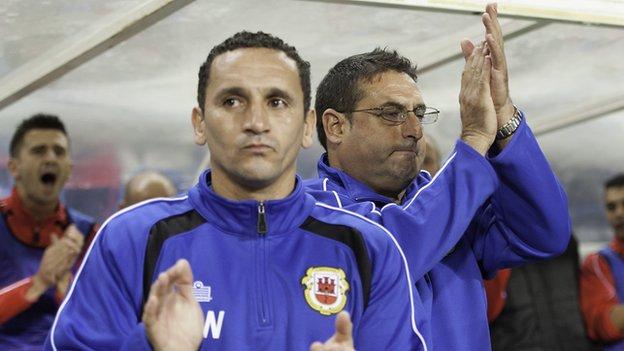 It's not long since Gibraltar crumpled like Mediterranean sand against charity team Dukla Pumpherston - but the Scottish assistant boss of Uefa's newest member says the present national team is rock solid in comparison.
BBC Scotland football pundit Chick Young recalls his team of celebrities and ex-professionals "winning convincingly" some 10 years ago.
But David Wilson laughed off the ignominious result when it was recalled on the Sportsound radio programme and insisted that Scotland will face tougher opposition from his side in Euro 2016 qualifying Group D.
"Yes, I think we came second back in that game, but I think you played a select side," replied the Glasgow-born 40-year-old Gibraltar coach.
Wilson prefers to point to Gibraltar's final friendly before Sunday's draw, which also paired them with Germany, Republic of Ireland, Poland and Georgia in their debut tournament at international level, as an example of their current quality.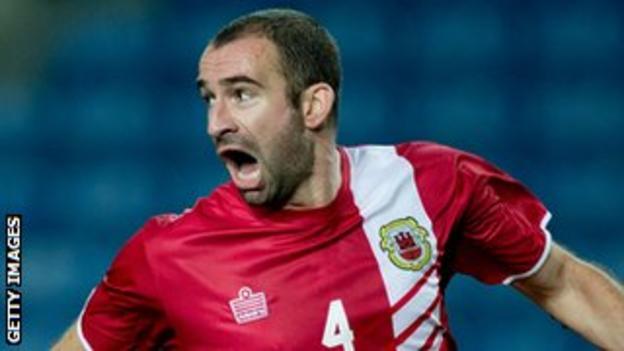 "I love hearing that we're minnows, we're the cannon fodder, we shouldn't be there, but I think, if people go have a look at our game against Slovakia, they'll see just how well organised we can be," he said.
"It was 0-0 when we played them in Portugal just four days after they beat Poland 2-0, so it shocked them.
"The plus points for us were, although we only created five chances in the match, the way we defended limited their chances to 10 or 11 in the whole game.
"As much as they dominated, they couldn't break us down and that's what we aim to build from."
Gibraltar's international record includes losing all three matches in a 2008 tournament involving semi-professional selects from England, Scotland and Wales, plus three defeats by Shetland, although their scalps do include Orkney, Greenland, the Isle of Man and Monaco - the national team, not the team playing in the French top flight.
They also lost 3-1 in a friendly against Scottish Premiership outfit Hibernian last summer.
"I was pleasantly surprised by our guys," said Wilson. "We played something like 23 players that night.
"As impressed as I was with Hibs, I felt that, if the gaffer had put out his strongest 11, we would have convincingly beaten them."
At the time of the game, Wilson had already been helping the Gibraltar squad with sports conditioning but was offered his present role soon after.
"It was just an honour to be working with the national team, so when someone offers you the chance to be assistant manager, especially when they've just entered Uefa, I just bit his arm off," he said.
"As a young Scotsman growing up and dreaming of walking out and playing at Hampden, those chances pass us quite a lot of us by.
"I was praying for Scotland to come out of the hat and it was still hard to believe when it did come out.
"I think I did a couple of laps of the pitch I was on at the time and fell over."
Brought up in Ayrshire, Wilson was signed by his local favourites, Kilmarnock, as a youth before giving up on a career in football to join the Navy.
However, he still managed to play semi-pro level and numbers Worthing Town, Newport Isle of Wight, Bashley under Jimmy Case, Kilwinning Rangers, Auckinleck Talbot, Troon and Salcoats among his sides as well as representing the Royal Navy and British Combined Services.
Now, the petty officer is hoping to help steer Gibraltar through international football's potentially stormy waters with military precision - and sink a few big ships on the way.
"It will come down to our organisation," he said. "We're very fortunate in that Gibraltar is probably the size of my home town, Kilwinning, so we see the players on a weekly basis, which many national teams don't."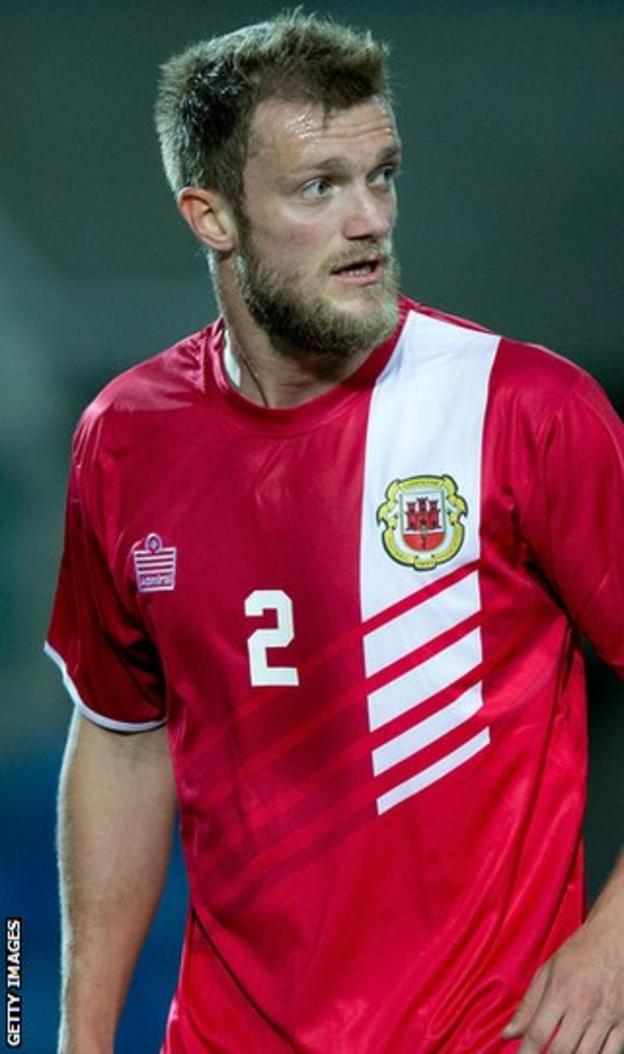 Wilson pointed out that Gibraltar have had a national team since the late 1800s.
Until now, that has been on an amateur basis and they will have to play their home matches in Portugal while a compliant stadium is built ahead of an anticipated inclusion in the next World Cup draw.
Gibraltar also only have seven full-time professionals, with the rest made of what Wilson says "we would call semi-professional, amateur, junior level or non-league players", most from domestic champions Lincoln Red Imps.
The addition of Preston North End defender Scott Wiseman, Wycombe Wanderers striker Reece Styche, Wrexham defender David Artell, striker Adam Priestley from Northern Premier League outfit Farsley Celtic and unattached veteran former Southampton and Stoke City defender Danny Higginbotham helped trouble Slovakia, but they are names that will not strike fear into Group D.
However, head coach Allen Bula has targeted a play-off place even though that would mean finishing third and Wilson thinks their side are better than than some of world football's so-called minnows.
"I love his optimism, it's brilliant," said Wilson. "We'll be looking to steal points and just have a good first campaign.
"No disrespect to San Marino or the Faroe Islands, but I see Gibraltar 10 places above them already."
Saturday's friendly at home to the Faroes, who they have beaten once previously - and Wednesday's against Estonia - will be tests of that confidence.
Their European Championship campaign will conclude at home to Wilson's native Scotland and he is not relishing the prospect of a potentially seeking a result that would deny Gordon Strachan's side qualification.
"My mum and dad wouldn't speak to me," he said. "I can't believe it is Scotland in the last game.
"I've got to be professional. I'll probably find it hard biting my lip when they play Flower of Scotland - that'll be tough."