Man Utd: Five factors that could cost David Moyes his job
Last updated on .From the section Football852
David Moyes will remain as Manchester United manager despite the 2-0 Champions League defeat by Olympiakos.
The Premier League champions remain committed to the man they handed a six-year contract to in the summer, maintaining their mantra he will be given the time and finance he needs to make a success of the job.
Could that situation change, though?
And what factors might count against the 50-year-old Scot, lauded as "The Chosen One" in a banner hung from the Stretford End in August, when he began the task of replacing Britain's most successful club manager, Sir Alex Ferguson?
The players lose faith
When he arrived at Fiorentina for the start of his loan spell in January, Anderson was quoted as saying other United players "wanted out" in the summer, though he later denied making the comments.
Javier Hernandez and Wilfried Zaha have posted cryptic quotes on Twitter that did not meet with the approval of senior figures within the squad.
But Rio Ferdinand's pre-Christmas observation about the amount of notice Moyes gives about team selections has been the only real public questioning of the manager by a player currently at Old Trafford.
Robin van Persie's remarks about United's tactics against Olympiakos - and how they affected his role - were not exactly critical of Moyes. That said, would the Dutchman have made such pointed remarks under Ferguson, a man who stamped on any threat to his authority?
There has been some good news for Moyes, with Wayne Rooney's decision to sign a new contract a clear sign he thinks United are a club worth sticking with, but the announcement Nemanja Vidic would be leaving at the end of the season was ill-timed and placed a question mark against his commitment for the rest of the campaign.
Could player power ultimately undermine Moyes, just as it did at Chelsea and Sunderland, when Andre Villas-Boas and Paolo Di Canio were forced out after losing the backing of the dressing room?
Arthur Albiston, who made 485 appearances for United, described the performance in Greece as "awful" but says the players will be more focused on themselves than their manager's predicament.
"The players, the younger ones in particular, need to get their heads around the fact they are playing for Manchester United and half the country are smirking at their downfall," said the former Scotland defender. "Dealing with that pressure is part and parcel of being at the club. It is just the way it is."
The fans turn against him

"Your job now is to stand by our new manager," ordered Ferguson as he addressed the United supporters following his final home game in May.
Those words were greeted by roars of approval from a capacity crowd and, by and large, the fans have backed Moyes.
There are signs, though, that support is wavering.
The Manchester Evening News has led the criticism of Moyes, while Duncan Drasdo, chief executive of the Manchester United Supporters' Trust, said defeat in Greece had gone down badly with those who had made the trip.
"You can feel people are swaying," he said. "There is a division between those who think Moyes is the right man and others who do not."
Drasdo believes the entire debate avoids the main issue.
"Everybody recognised how hard succeeding Sir Alex Ferguson was going to be," said Drasdo.
"To stand any chance, the club needed to spend big in the summer transfer window. They did not and, whilst the depth of what has happened could not be predicted, the downturn was obvious."
The owners panic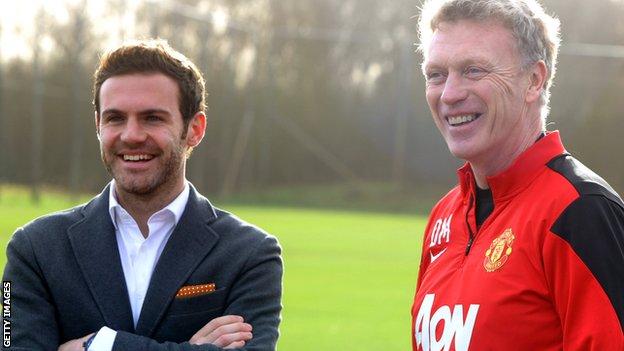 The speed at which a rumour that Moyes had been sacked flew round the New York Stock Exchange the morning after the Olympiakos defeat showed how much damage can be wreaked.
It turned out to be a hoax but United's present status means such mischief-making can take hold.
The Glazer family have slashed the debt loaded onto the club following their takeover and are reaping the benefits of massive increases in commercial revenue.
They still have shareholders to serve, though.
It has been consistently claimed the club could ride over a season without the £30m generated from a good Champions League run.
However, the club's financial structure is built around being in Uefa's elite club competition, which is only going to increase in value.
BT Sport paid £897m for the rights to broadcast the tournament from 2015, more than double the current deal, underlining the financial incentive for qualification.
And it is unlikely Chevrolet, who will start paying United £53m a year this summer to have their name on their shirts for the next seven years, struck that record-breaking agreement in the belief the club were set for a spell in the wilderness.
The Glazers also own the Tampa Bay Buccaneers NFL franchise and have shown they are not afraid to act fast if things are not going well.
They dumped head coach Greg Schiano in December, just two years into a contract not due to expire until 2016, triggering their third coaching change in the past five years.
United suffer more bloody noses
If 2014 has been bad so far, the visits of Liverpool and Manchester City to Old Trafford in March, plus that crucial Champions League return with Olympiakos, present the potential for total humiliation.
It is hard to see the rank-and-file in the stands remaining patient if the recent negative trend continues.
There is a note of caution, though, albeit not one Moyes can take much comfort from.
"It feels like we hit rock bottom on Tuesday night," said Drasdo. "The general consensus leaving the stadium was we can't go any lower. I don't see another one or two results are going to change that."
The task becomes too much for Moyes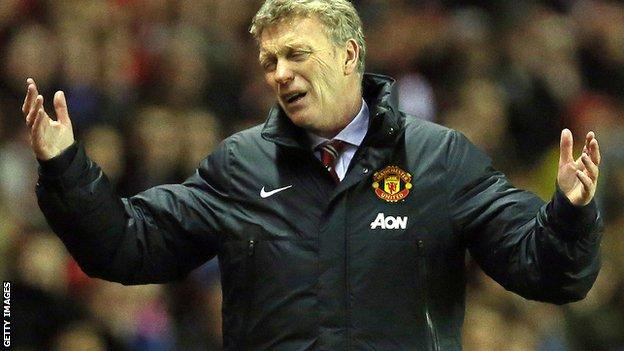 When Moyes addressed the media for the first time at the beginning of July, his delight at being asked to replace the man who won an incredible 49 trophies for United was obvious.
The slow realisation of the sheer scale of the task he faces has been fascinating to watch as surprise defeat has followed surprise defeat.
West Brom won at Old Trafford for the first time in 35 years. Everton broke a 21-year hoodoo. For Newcastle, it was 41. As for Swansea, they had never left victorious.
Now United's unbeaten record against Greek opposition has gone, too.
In the middle of all this came a win over Arsenal, when Moyes publicly acknowledged it would not be plain sailing.
"We have got a lot of big steps to take here and it is going to take me a while to get it all the way I want it to be," he said. "We are going to get a few bloody noses along the way."
Shortly afterwards, as the January transfer window loomed large, the Scot outlined the sheer scale of his task.
"To talk about January as if that would be the place where everything would be cured and any problems would be resolved would be wrong," he said. "It takes maybe two, three or four windows to do that."
Confidence in his transfer dealings is not high anyway.
He spent £27.5m on Marouane Fellaini, who spent Tuesday on the bench, and a club-record £37.1m on Juan Mata, whose best position is the same as Rooney's.
Yet this is a squad that won the title by 11 points last season and finished each of the past two seasons with 89 points.
When David De Gea made a rare and inexplicable mistake to cost his team a place in the Capital One Cup final and Stoke broke their 30-year wait for a win over United, Moyes bemoaned ill fortune.
"I don't know what we have to do to win," he said.
Then came Athens.
"I didn't see that level of performance coming," bemoaned Moyes after his side managed just one shot on target all night. "I just didn't see it."
United insist his job is not under threat, but will he see the end coming soon?