Vincent Tan: Cardiff City owner insists he is not a 'villain'
By David Ornstein
BBC Sport in Kuala Lumpur
Last updated on .From the section Football
Cardiff City's controversial owner Vincent Tan has insisted he is not the "villain" he is sometimes portrayed as.
In an exclusive BBC Sport interview, the 62-year-old Malaysian businessman has even accused the British media of being "a little bit racist".
Tan, who upset Cardiff fans by changing the club's colours and sacking manager Malky Mackay, said the "vocal minority" who oppose him should "apologise".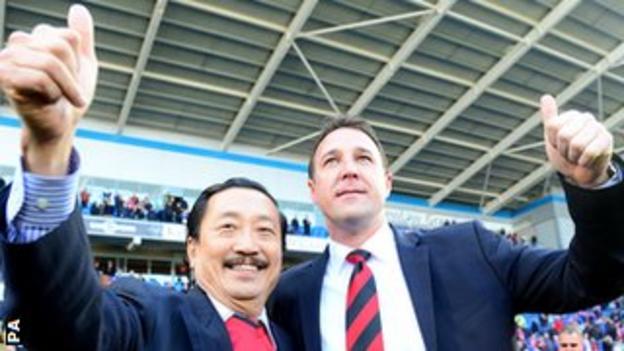 And he is adamant he will not quit unless supporters drive him out.
"One day we are a hero, another day we are a zero," Tan, who bought the Welsh club in May 2010, told BBC Sport. "Without me, Cardiff would have gone bust. Because of my investment, we got promoted."
In a rare interview, and speaking for the first time since sacking Mackay in December, Tan also said:
He has the backing of 90% of Cardiff fans
He will never change the club's colours back to blue from red
Mackay "got lucky" when he landed the job as manager
He is "convinced" manager Ole Gunnar Solskjaer will save Cardiff from relegation
Foreign owners are good for British football
Plans to list Cardiff on the Singapore stock exchange have been abandoned
Much of the goodwill Tan gained after arriving in the Welsh capital has been lost because of the controversial decisions he has made.
But he expressed a firm belief that Cardiff, who sit one place off the foot of the Premier League table with only 11 games remaining, are in capable hands.
"I am now more involved and under my leadership the club will be in good shape," said Tan.
"Some of my family members really want me to leave. They think it's not worth it. They think no-one is grateful. But you have to be patient, accept the criticism and sometimes the insults."
Tan hopes to be able to tell fans the "truth" about the sacking of Mackay once a legal case between Cardiff and the Scot has concluded and stressed he wants to "unite" with them.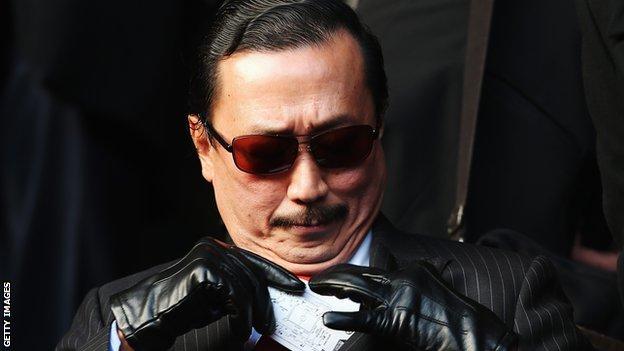 But he added: "No matter how much good you do, there will always be a few per cent of people who don't support you."
And he has little time for those who portray him as some kind of Bond villain because he often wears dark glasses and gloves when watching Cardiff's home games.
"I wear sunglasses because of the glare of the spotlights," he said. "I wear gloves because it is very cold in the UK. Frankly, sometimes I think they are nuts making all these comments."
He added: "The British press is unfair... maybe because we didn't tell our side of the story that well. When the time is right, I will tell my story. Sometimes the British press is maybe a little bit racist."
After initially taking a 35% share in Cardiff, Tan now owns about 90% and has paid off all creditors.
According to Tan, the club's only outstanding debt is about £70m-£80m owed to him, and he will decide in due course whether or not to convert that into equity.
Mackay was appointed in June 2011 by then chairman TG Chan and former director Alan Whiteley, a decision that might not have been made had Tan been more involved.
"He didn't do very well at Watford, but somehow our CEO and our chairman hired him and replaced Dave Jones," Tan said. "Dave Jones actually did much better.
"So I think Malky got lucky when he came to Cardiff. I invested a lot of money and then we went up. Do you think that Malky would have got us promoted without my investment?"
After reaching the Premier League, Tan alleges Mackay and ex-head of recruitment Iain Moody exceeded a £35m transfer budget by £15m - an accusation they deny.
Mackay and Moody also claim every deal was signed off by Cardiff chief executive Simon Lim.
"It went wrong when I found out that we overspent on transfers," said Tan. "I sent Simon Lim from Malaysia. He doesn't really know a lot about football, so he depends on the football expert.
"We have this expert always telling us 'leave the football to me, I'm the expert', so if the expert says 'do this, do this' and asks you to buy A, B and C, what can Simon Lim say? What can I say?"
Moody was replaced by Alisher Apsalyamov, a 23-year-old Kazakh who is a friend of Tan's son and was on work experience at Cardiff before leaving the UK after his visa application was rejected.
Tan praised Apsalyamov's "incredible football knowledge" and says his view that Cardiff overpaid on transfers "has been proved right".
Speaking at an event in Kuala Lumpur to honour his business and charity work, and celebrate his birthday, Tan joked about his Cardiff takeover, saying: "Sometimes I wonder why I did it."
But when asked in our interview later if that was true, Tan said his only regret was he did not take more control.
"Earlier on I was generous enough to give our football management too much authority and they went berserk," he said. "They went and did bad business. That was a mistake.
"But now I'm involved, I know the value and I study. Every business I don't know, if I spend enough time - a couple of months - I will know a lot. I know quite a lot about football now. I know the value of players and we won't do stupid things.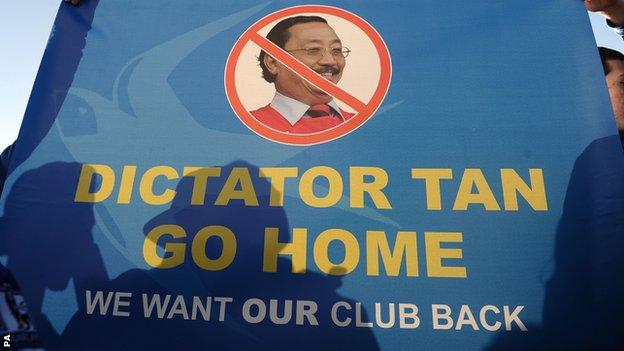 "In the January transfer window, I was very involved. We spent about £6m for seven players. In the summer, we signed seven players and committed almost £50m. I want to make sure we spend correctly. If I'm involved, I make better business decisions, getting better value for my money.
"Next summer I'm sure we will do better transfers because I will be personally involved. We're not going to let our manager run wild."
Tan is quick to take responsibility for securing a pre-contract agreement to sign 31-year-old Spanish striker Javi Guerra on a free transfer from Real Valladolid next summer.
And he put Cardiff's poor form under Solskjaer, appointed as Mackay's replacement in January, down to "the bad transfers we did in the summer" - singling out Andreas Cornelius and John Brayford.
He also identified Southampton and Hull City as clubs who prove "you can avoid overspending and have good football management".
Tan, who believes British clubs are "very blessed" to have foreign owners, denied he would walk away if Cardiff were relegated ("unless the fans really p*** me off so much, then I may leave") and pledged to donate £1m to local charities if they stay up.
But he has shelved plans to list Cardiff on the Singapore stock exchange until "we can make this club stable and sustainable in the Premier League".
Building bridges with disgruntled supporters is on the Malaysian's agenda, but he will not budge on the shirt colour after he opted last year to change the home kit from blue to red.
He claimed the move was to drum up interest in the Far East where red is seen as a strong colour which brings good luck.
"No way I will change it back to blue under my ownership," he said. "Perhaps they can find an owner who likes blue, pay up and buy me out. Sure they can go and change it to blue after that. I go somewhere and build another red club.
"Of course it helps that, in Asia, red is a colour of success, festivity, joy. After we changed it, that same season we got promoted. I think that was a good omen, a good sign."