Linfield and Cliftonville fined over sectarian chanting
Last updated on .From the section Football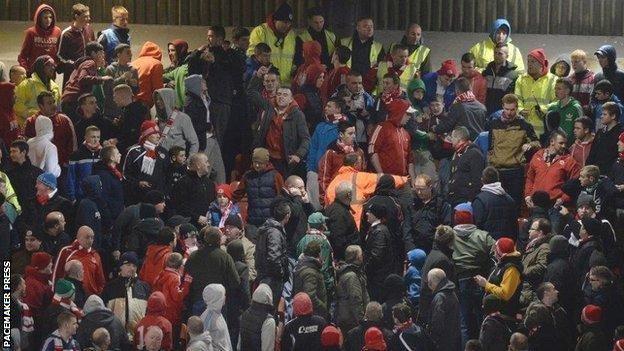 Linfield and Cliftonville have each been fined £3,000 following sectarian chanting during the Co Antrim Shield semi-final at Windsor Park in October.
Sections from both sets of supporters were involved in the chanting.
The IFA also imposed an additional £250 fine on Cliftonville after Reds fans caused an "explosion" during the game.
The north Belfast club said they are likely to make an appeal after being "unjustly accused" and are "very disappointed" with the IFA's conduct.
Cliftonville were given the additional £250 fine as it was a second incident of improper conduct this season.
The sectarian chanting led to referee Hugh Carvill asking for an announcement to be made, urging those involved to desist.
"The Club are currently considering the outcome notified to us by the Irish Football Association with a view to appealing the matter," said Cliftonville.
"Cliftonville are very disappointed with the conduct of the Irish Football Association in respect of their statement issued concerning this, considering many other similar cases and other matters, that they have chosen not to publicise in recent seasons.
"Given the content of their statement, which goes beyond the official notification received by the Club on this matter, Cliftonville will be seeking further advice."
Reds chairman Gerard Lawlor has also reacted angrily to the punishment handed out by the IFA.
"Cliftonville Football Club take their responsibilities very seriously and were fault lies with the Club we will respect any decisions and we will and have taken appropriate action to deal with issues that have arisen," he said.
"However, when the Club believes they have unjustly accused of any matter and indeed feel that the Club are being used as a vehicle 'to make an example', then we will vigorously defend the position of our Club."
The IFA said the "unprecedented sanctions" are aimed at creating a friendly atmosphere at games.
"The IFA repeats its determination to promote, foster and develop football for all in Northern Ireland and in doing so create a family friendly atmosphere throughout all levels of the game, free from racism, sectarianism, sexism or hooliganism."