Injured Lacina Traore may require surgery
Last updated on .From the section Football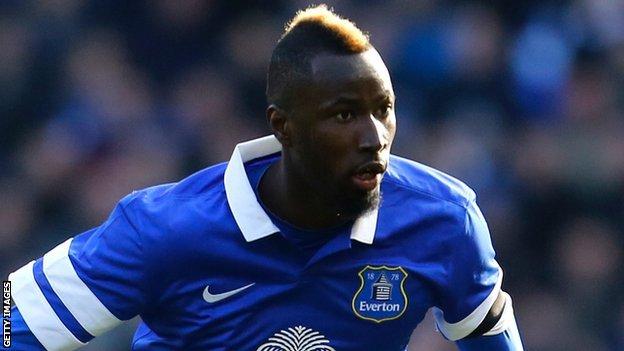 Ivory Coast striker Lacina Traore's loan spell at Everton from Monaco could be cut short if it the clubs decide he needs surgery on an injured leg.
The 23-year-old suffered the problem before Saturday's game against Chelsea.
"The injury can be solved by conservative treatment or surgery - that is a massive decision," said Everton boss Roberto Martinez.
"If Lacina is going to be out for any longer than two or three months then the loan period is over."
Traore arrived at Everton in January already carrying a hamstring injury but he recovered to make his debut against Swansea in the FA Cup on 16 February and scored in the 3-1 victory.
But it may turn out to be his only appearance for the Toffees following his latest setback.
Discussions have taken place with the 6ft 8in forward's parent club Monaco on the best course of treatment and a decision is expected in 48 hours over whether he needs an operation.
"It is important we are working together with Monaco and what we need to get right is the player gets the perfect treatment: when I say the perfect treatment, this is not a straightforward injury," added Martinez.
"Lacina had a previous injury a few months back but he was fully fit and without fatigue - because obviously in the warm-up you don't incur any fatigue - (so) that injury is a bit of a worry.
"Depending on what route we are going down is going to have certain consequences.
"It could mean Lacina could play for us again or if he can't - it's a bit too early."