Franz Beckenbauer backs Libya as 2017 Nations Cup hosts
Last updated on .From the section Football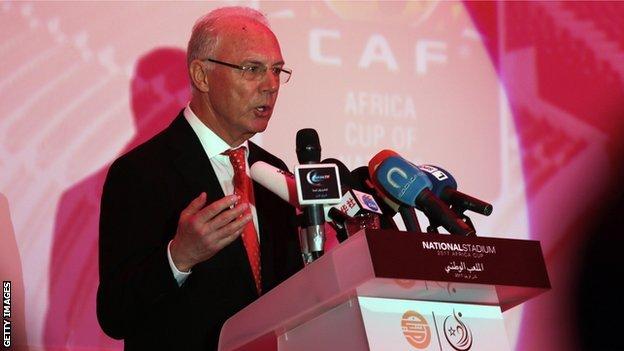 German legend Franz Beckenbauer will be an ambassador for Libya as the hosts of the 2017 Africa Cup of Nations.
The 68-year-old, who won the World Cup as a player and a coach, agreed to the role while in Tripoli on Wednesday.
He was attending a ceremony for the laying of the foundation stone of a stadium for the event in three years.
"Mr Beckenbauer promised he will do whatever he can to help Libya make this event something special," Libya FA member Mabrouk AlMisrati told BBC Sport.
"We have chosen him because he is one of the great players during the ages.
"He was happy to be nominated as an ambassador and he promised to support us by any means he can."
Libya was due to host the 2013 edition of the tournament but precarious security saw the event switched to South Africa, who had been down to host in 2017.
In November, Confederation of African Football general secretary Hicham El Amrani said the 2017 event would not be switched from Libya despite the ongoing troubles in the country, dismissing suggestions Algeria could step in as hosts.
And on Wednesday Prime Minister Ali Zeidan laid the foundation stone for a stadium in an eastern suburb. During the ceremony he proposed for Beckenbauer to become an ambassador for Africa's premier tournament.
Beckenbauer responded in a speech: "Nelson Mandela said the following words: 'Sport has the power to change the world - football is a power to make a better world.
"This Africa Cup of Nations is very, very famous the competition. Besides the Europeans (Africans based in Europe), the best players in the world are having this competition and so that means the whole world is watching the country.
"So it is the best promotion you ever can make for your country."
Austrian firm PORR is building Libya's national stadium - which will have a capacity of 60,000 - on the site of a military camp of the former regime in the Tajura suburb of Tripoli.
Organisers say there will be two more venues in Tripoli, two in Benghazi in the east and one in third city Misrata.